Burgess Hill Citizen's Advice Bureau Could Close Permanently In May
13th April 2018
Burgess Hill could be about to lose the services of the Citizen's Advice Bureau in Church Walk due to cuts in their operation.

Mrs Peach - volunteer at the centre - addressed the councillors at the annual town meeting this past Wednesday, asking if they were aware that the centre is due to close in May?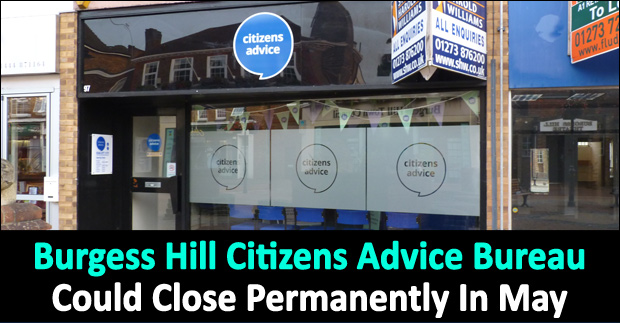 Present at the meeting was district councillor Gary Marsh (Balcombe) who is the cabinet member for service delivery.

In response to Mrs Peach, Gary Marsh said:
I can guarantee that it is not closing, we've just extended their grant funding for the next three years. They may be amalgarmating, but they're not closing. Some of the services will now be shared between Burgess Hill & Haywards Heath.

Mrs Peach
So will debt clients and social services people now have to travel to Haywards Heath?

Gary Marsh:
I don't know. That's down to the Citizen's Advice Bureau as to how they distribute their services, but I can assure you that it's not closing. We've just paid another £200,000 from your council tax into their service.

Mrs Peach:
I'm a volunteer there and I've been told that it's closing.

Gary Marsh:
Well you've been misled then, I'm sorry. If you want to contact me after the meeting, then I'll get the cabinet member to write directly to you.


BHU's Take On The Situation
Mrs Peach has most likely been correctly informed of the status of CAB in Burgess Hill as she volunteers in the very building! That doesn't just come from nowhere.

Cllr Marsh was very cute with his answer, a politician's response. Mrs Peach was refering to the actual centre in Burgess Hill closing, and not CAB's service in the whole district. It will be a shame if residents from the largest populated town in Mid Sussex now have to travel to Haywards Heath to access vital services, help and advice.

We hope to receive more information from the relevant people next week.
Spread the word, the Citizen's Advice building in Burgess Hill is set to close in May

Got an opinion on this story? Leave a comment below.....
What do you think of the news that the Citizen's Advice Bureau in Burgess Hill is to close in May?