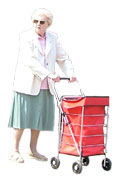 Welcome to the Burgess Hill Shop Guide
Hi there shoppers. When going to Brighton and Crawley isn't an option, you are stuck with the shopping experience that Burgess Hill has to offer, but this isn't such a bad thing, for some, venturing into the town centre is like a holiday, you get to visit all those shops that you thought had closed down many years ago, after all, that's why you started to shop elsewhere, right?
Burgess Hill Uncovered's ever-growing collection of reviews will help guide you though the various shops that the town has to offer.