CONFIRMED: Opening Hours Of Burgess Hill Tip To Change Along With New Charges For Non-Household Waste
20th July 2016

West Sussex County Council have announced that the opening hours of the Burgess Hill Household Waste and Recycling Site are to change following a county-wide consultation

From 1st October 2016, the Burgess Hill site will now open from 10am throughout the year and not 8am. The closing time will still be 7pm in the summer months (1st April - 30th September) and 5pm during the winter (1st October - 31st March)

Fortunately, as Burgess Hill is one of three waste transfer sites, the public will still be able to use the service 7 days a week whereas the operations of the other sites in West Sussex have been cut back to just 5 days a week.

In addition, new charges are being introduced for the disposal of non-household waste.
Soil, hard-core, DIY, plasterboard will cost £4 a bag/sheet
(a standard rubble sack of 45litres /20-25 kg)
A disposal charge of £4 per tyre
(cars and vans)

The site will no longer accept LGV, tractor and mobile plant tyres.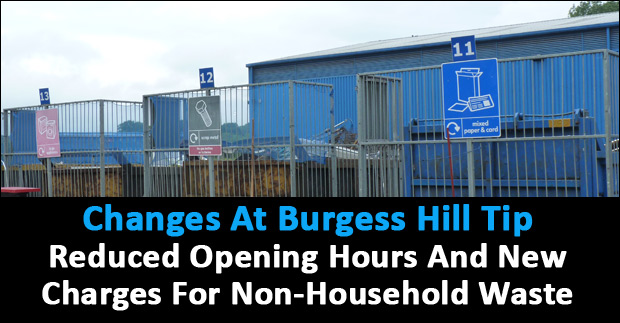 Fly-Tipping Fears
David Barling, West Sussex County Council's Cabinet Member for Residents' Services, has addressed possible increases in fly-tipping:

"Following concerns about these changes to fly-tipping levels, we are creating an enforcement team of two extra officers to support the work currently done by our partners in district and borough councils. We will also work with the Farmers Union and private landowners to ensure fly-tipping is prevented as much as possible.
"Fly-tipping remains an illegal activity and we will support, advise and provide a clear direction for reporting any incidents of fly-tipping."


These changes will not come into effect until 1st October 2016

Spread the word! The opening hours of Burgess Hill tip are to change with new charges also being introduced

Got an opinion on this story? Leave a comment below.....
What do you think of the changes? Will the later start times effect you? How about the new charges? Are they fair?