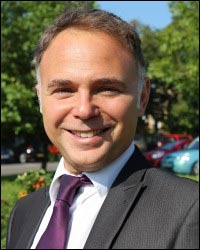 Following Colin Taylor's announcement of his intention to leave the college at the end of this term We am pleased to inform you that following consultation with West Sussex County Council and the University of Brighton Academies Trust Jon Francies has been appointed Interim Principal of Oakmeeds from the beginning of the summer term.
Jon is currently Principal of The St Leonards Academy (part of the Hastings Academies Trust, which is led by the University of Brighton). Under his leadership (initially as Vice Principal and, since 2014, as Principal), the academy's results since opening have successively improved, and the academy (which has 1300+ students) is now significantly oversubscribed. Jon lives locally and is familiar with the Burgess Hill community.
Jon is very much looking forward to meeting and working with all students, staff and parents. Whilst, inevitably, he has a number of existing short term commitments that he must fulfil in his role as Principal of The St Leonards Academy, he hopes to spend some time in the college before he starts in his new role at the beginning of April.