Huge Council Tax Hike Across The Board
For Burgess Hill Residents
24th February 2016
Bad news for Burgess Hill residents as every element of the council tax is going up.

All the local councils and Sussex Police have recently met to work out their budgets for 2016/17 and it's bad news. Here are the rate increases:

Burgess Hill Town Council + 1.99% (£1.36)
Mid Sussex District Council + 1.99% (£2.97)
West Sussex Council Council + 3.95% (£45.90)
Sussex Police and Crime Commissioner + 3.47% (£5)

The costs are going up, but services will be cut. Apparently we have central government to blame for this.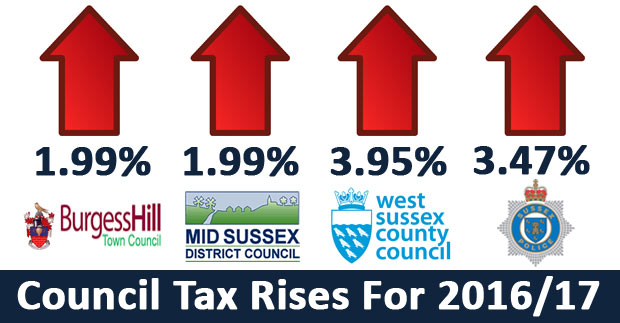 Cllr Andrew Barrett-Miles, Leader of the Town Council, said "The Town Council is proud of the services it provides for our residents and raising the precept by a small amount will help us to continue those services in spite of financially challenging times."

That quote from ABM is very hard to swallow when all you have to do is trawl through the council's website to look at the payments made over £500 to see that there's many examples of needless expenditure and exceedingly high payments made for services/goods that could be found cheaper outside the council's circle of friends/business contacts.

Although there will be cuts, we're sure you'll keep receiving the 'About Town' 'Mid Sussex Matters' and 'West Sussex Connections' propaganda publications that many of you probably just toss straight in the bin. A superb use of public money.


Spread the word! All elements of the council tax are going up.

Got an opinion on this story? Leave a comment below.....
What do you think of the council tax hike? Could you find savings in the council's current expenditure?