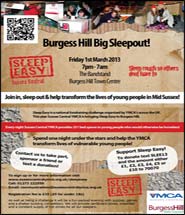 Burgess Hill Town Centre To Host 'Big Sleep Out'
Charity Event
11th February 2013
*Breaking News* Ever fancied sleeping rough for a night in a cardboard box? Well now you can and raise money for charity at the same time!

On Friday March 1st between 7pm and 7am, people are being invited to come and sleep rough in Burgess Hill town centre in aid of Sussex Central YMCA.

To take part it will cost £10 for adults and £5 for under 18's.

We'll have a more detailed account about the event soon but for now, here's the full press release...

SLEEP EASY: SLEEP ROUGH SO OTHERS DON'T HAVE TO

Sussex Central YMCA are asking people to spend one night in March sleeping on the street to raise money for charity.

The aim of the fundraising event called Sleep Easy is to raise awareness of the realities of homelessness and housing crisis. It is also an opportunity to raise money to support the work of Sussex Central YMCA's services, which house over 250 young people in Sussex who would otherwise be homeless.

The event is being organised in partnership with Burgess Hill Town Council, St Johns Church, The Martlets and other local agencies.

Sleep Easy event will take place:
Friday 1st March 7pm-7am
Venue - Burgess Hill Bandstand

In previous years sleepers braved temperatures of -4 degrees, waking up to frost covered boxes and sleeping bags. Sussex Central YMCA's event last year raised over £5000 for local community projects; we are hoping to raise even more this year!

Money raised this year will be put to good use in supporting emergency bursaries and food parcels for Mid Sussex young people and families in housing crisis.

Cardboard boxes, hot drinks and warm food will be provided for all sleepers. Registration fee is £10 (£5 for U18s). Sign up to the event today and help continue the work of the charity by spending one night under the stars. Contact sleepeasy@sussexcentralymca.org.uk or call 01273 222550.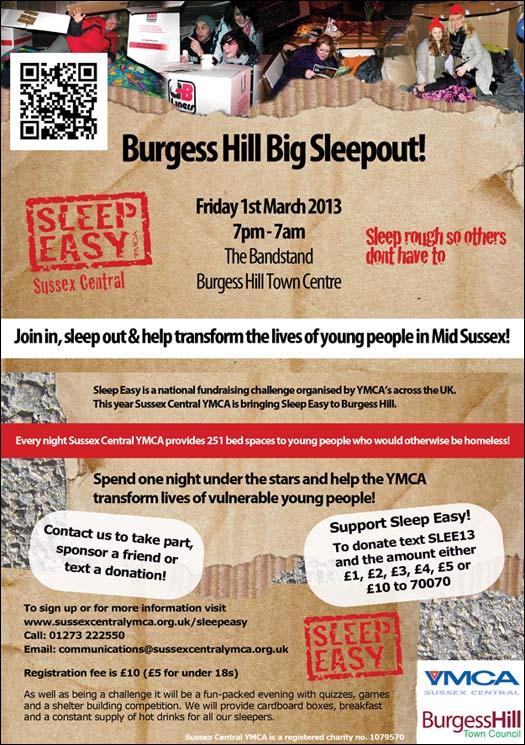 Click Image To Download Full Size Flyer
It's always good to share, so let your friends know about this story....

Got an opinion on this story? Leave a comment below.....
Will you brave a cold night out in Church Walk to help raise funds for Sussex Central YMCA?