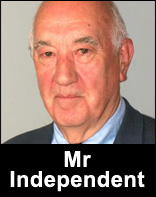 Liberal Democrat Town And District Councillor Quits And Goes Independent
22th January 2013
Interesting news for those that take an interest in local politics, for Denis Jones - Liberal Democrat councillor for the St Andrews Ward on both the town and district council - has quit the party and gone independent!

This may be surprising to some as only in May did Denis take over the reigns from Graham Knight as group leader of the Lib Dems on Mid Sussex District Council.

Lib Dems no longer the sole second biggest party on the town council
Denis' departure from the Lib Dems means that on the town council, the Labour Party now have the same number of town councillors as the Lib Dems - 2 each. Historians, when was the last time that Labour could be considered the opposition in Burgess Hill?

Re-jigging of committees
A full meeting of the District Council is due this evening (Tuesday) where one area of discussion will be the re-balancing of committees as the Lib Dems now have one fewer member. What a lot of kerfuffle!

Should there be a by-election?
It's always a hot topic for discussion, but should there now be a by-election in the St Andrews Ward?
Denis Jones may purely have been elected due to the party he was standing for. Now that he's no longer a member of the Lib Dems, the electorate may wish to elect someone that shares the political leanings of the majority.

Even if not a legal requirement, should Denis stand down anyway and let the electorate decide if they want him on the council as an independent councillor?
It's always good to share, so let your friends know about this story....

Got an opinion on this story? Leave a comment below.....
Do you think there should now be a by-election for the St Andrews Ward seat on both the town and district councils? Are you surprised that Denis Jones actually left the Lib Dems? Is this a sign of things to come for the Lib Dems locally? Jumping ship in fear of never being elected again? Can we expect Denis to join the Conservatives soon?