The Burgess Hill Annual Town Meeting Returns!
26th July 2021

|


On Tuesday evening (July 27th) The Burgess Hill Annual Town Meeting is taking place at Cyprus Hall on Cyprus Road with a 7pm start time.

The meeting didn't take place in 2020 due to the Covid-19 restrictions, but with things now opening up, it's back for 2021, albeit in July rather then its customary month of April.

This will be the first meeting in over a decade that isn't controlled by the Conservative Party - who were almost completely wiped out from the town council in 2019.

Traditionally a bit of a bear pit with loads of planted speakers, what will the vibe be like with a new council in place?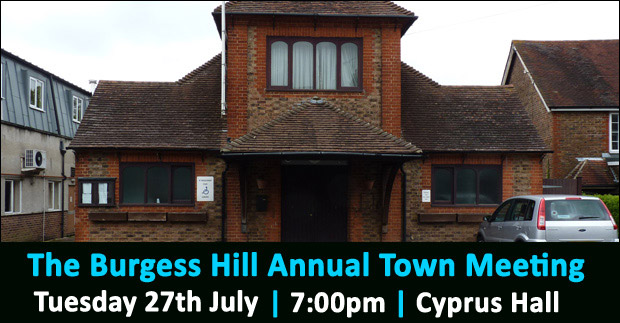 Cyprus Hall plays host to the annual town meeting.

Here is what the annual town meeting is supposed to be:
The Annual Town Meeting is the public's meeting and is not actually a meeting of the Town Council.

The Town Council have the responsibility of organising the meeting, with the Mayor having the option to chair the meeting if they so wish - Mayor Anne Eves has taken up this option for tomorrow evening.

What The Public Can Say
The biggest misconception is that the public can only speak if they wish to ask a question. Any member of the public is allowed to speak and can just share a point of view or make a statement if they wish.

Burgess Hill Town Centre and the proposed new community venue 'The Beehive' are likely to come up tomorrow.

See you tomorrow night at 7pm - bring your friends, but not a bottle!
Spread the word! The annual town meeting takes place tomorrow evening at 7pm