Burgess Hill Residents Hammer Conservative MP Over Her Town Centre 'Update'
6th May 2021

|

Haywards Heath MP Mims Davies came under fire on Facebook from Burgess Hill residents this week, when a post designed to boost the Conservative Party's reputation ahead of the local elections had the opposite effect.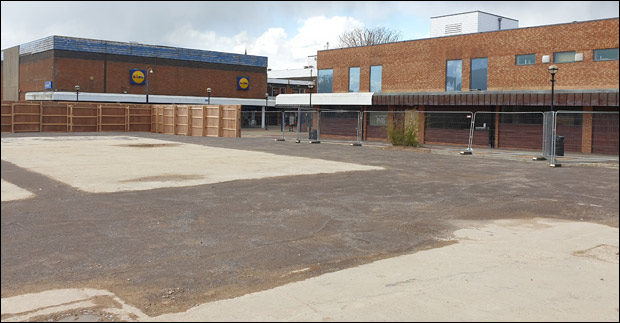 In a long, rambling post, the MP revealed that NewRiver Retail's scheme for the Martlets Shopping Centre has always had a viability gap and that it will require the government to step in to help find the funds to achieve it!

The Conservatives consistantly made outlandish promises in leaflets in 2016, 2017 and 2018 (Exposed by the Lib Dems in a Facebook video <---click) about all the substantial investment coming to the town centre and now the MP is saying that what they were promising then wasn't correct!!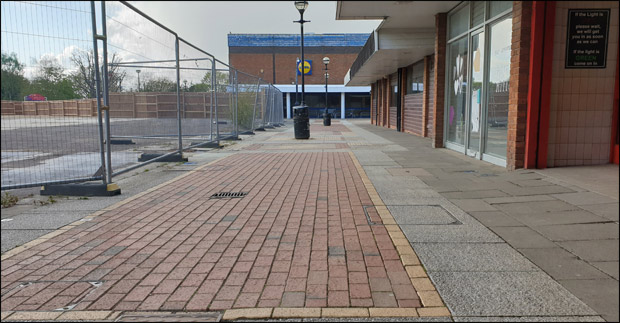 If there has always been a viability gap that has never been fully bridged, then why did Mid Sussex District Council demolish the Martlets Hall and clear that whole site if it was known that there was no genuine scheme to replace it?

Should the government come to the rescue of NewRiver Retail? Investments are always a risk, why should some businesses be protected from losses? Perhaps NewRiver should implement a less grand scheme that they can afford, or take the hit and sell up?

Actually, the Government should step in and and give the town money to replace the Martlets Hall that we're having to pay to replace after the Burgess Hill Conservatives (now unseated!) voted to have it demolished for NewRiver's 'unviable' scheme.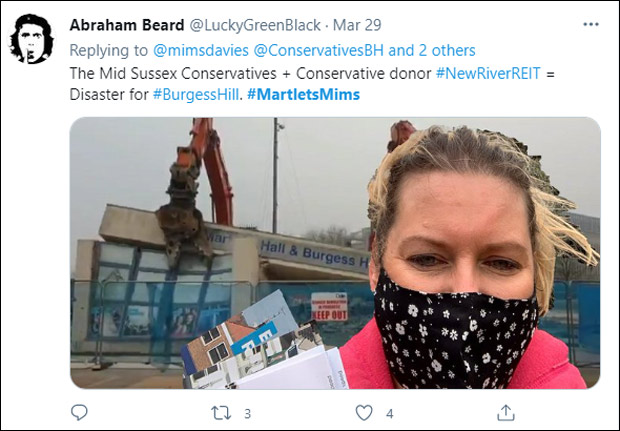 A Twitter user is not happy with the local MP

Public Backlash!
Joyce Sweatman asked 'How has such a muddled situation as this been allowed to happen? Incompetence?

Jo Stone requested to know why Mims was so vague about the timeline of when NewRiver acquired the land when Mims was living with the finance director at the time - don't take us for fools Mims! https://www.wikizero.com/en/NewRiver

Chris Riches added to it by asking 'Weren't you part of Mid Sussex District Council when it was acquired by NRR? Note: NewRiver purchased the Martlets in the backend of 2010, then 6 months later, Mims was elected onto Mid Sussex District Council for the first time.

Cheryl Douglas: 'Absolutely no substance to your post. Lots of words but actually no real update... typical politicians before elections. Lost my vote'

Michael Lewis: I see no mention of dealing with Newriver Retail. Honestly, the majority of people don't care about anything you just said. They are sound bites at most. Until you've done something about the town centre, you've done nothing.

Chris Dickinson pointed out 'The update because its a few days before an election update. So predictable.'

Mims Davies chose to do what the majority of local Conservatives do these days and didn't respond to the comments. Nothing like being accountable to the electorate, ay!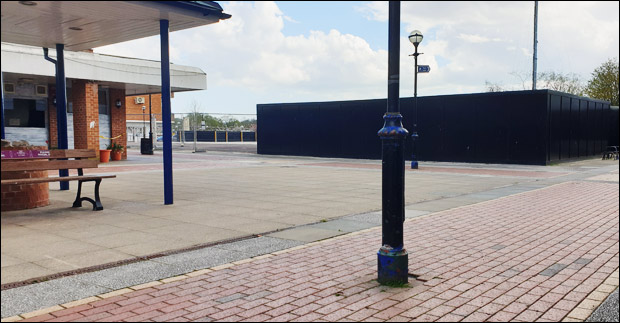 Lots of questions need to be asked about Mims' claims, and luckily, Burgess Hill now has a whole raft of representatives not from her political party who can do just that at the next meeting of Mid Sussex District Council. To be continued.....
Spread the word! MP Mims Davies has dropped a bombshell about NewRiver's scheme for the Martlets Shopping Centre