Sussex Police Seek Images Of Racist Leaflet Distributors In Burgess Hill
7th November 2020

|


Sussex Police have put out an appeal for any CCTV or Doorbell Camera footage which can help them identify who is delivering racist literature across the town.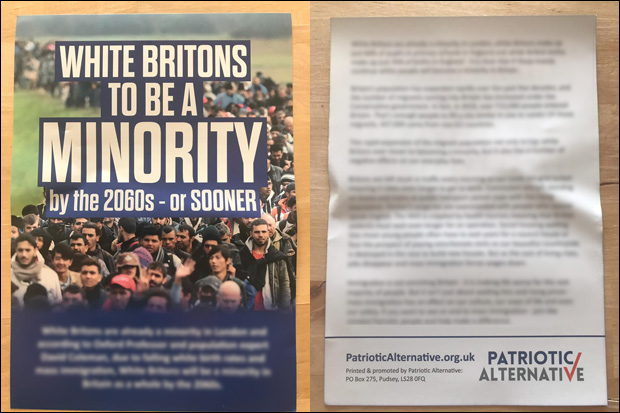 The double-sided leaflet claims that white british people will be a minority in the country by 2060, citing research by 'Oxford Professor' David Coleman.

It's been produced by 'Patriotic Advantage' with the reverse side of the literature lisiting reasons why immigation is bad for the country.

Non-British nationals in particular would find leaflet rather upsetting if it lands on their doormat, and it's already occurred on the Chanctonbury estate.

Inspector Darren Taylor revealed on Twitter that a number of calls had been received by the force about these leaflet drops in Burgess Hill. "Some of the wording on the leaflet is totally unacceptable and the amount of residents who have called in complaining about the leaflet through their doors confirms just that." he said



Local resident Michael Peter Crisp posted:

"Think some people are still living in the Stone Age and it looks like they are living in or near Burgess Hill. Such primitive behaviour, you're not in our tribe so get out of the cave. Most of these racists are thick as two short planks."


Residents are urged to contact Sussex Police on 101, quoting crime reference number CAD0387 if you have any information or footage.
Racist literature is being distributed in Burgess Hill