Mid Sussex District Council Suspend Green Bin Collections
7th April 2020
Mid Sussex District Council will pause garden waste collections from Monday 13 April to protect staffing levels for the collection of rubbish and recycling.

As part of our national response to the COVID-19 emergency, the collection of rubbish and recycling is an essential service and must be maintained in the interests of public health. The Council has therefore paused the collection of garden waste to focus on the collecting of rubbish and recycling.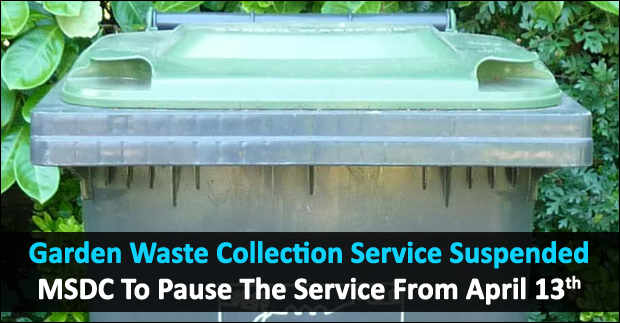 The garden waste service will be paused initially for a period of 12 weeks, at which point the situation will be reviewed, with a view to resuming the service as soon as is practically possible. The Council will contact all customers to inform them when collections will resume.

To ensure that nobody is financially disadvantaged by the suspension of the garden waste collection service, the Council will add time onto the end of each subscription period to cover the number of collections missed.

Councillor John Belsey, Cabinet Member for Environment and Service Delivery said:

"The Council is responding to a national emergency and we are doing everything we can to support our residents through this very difficult time.

"Our priority is to maintain our services for as long as possible but neither ourselves as a Council nor our service provider Serco are immune to the effects of the Covid-19 pandemic. Serco staff are having to work differently, for example through social distancing, and collections are necessarily taking longer and causing additional pressures on staffing. Accordingly, we believe it is now appropriate to suspend garden waste collections. This has not been an easy decision, but it is an essential one if we are to safeguard our rubbish and recycling collections.

"I appreciate that this suspension will be an inconvenience for many, particularly at a time when you are being asked to stay at home and are no doubt making the most of your gardens. However, it is absolutely the right decision to ensure our crews can meet the basic needs of all residents during these unprecedented times.

"With the Government's advice to stay at home it is going to be tempting to do some gardening but please try to avoid creating any unnecessary waste until the current restrictions are lifted. If home composting isn't an option for you, please consider delaying plant trimming and pruning until the collection resumes.
"We strongly advise against burning your garden waste to avoid causing a smoke nuisance in your neighbourhood.

"Thank you for your understanding and support."
For more information, visit the garden waste collection page at www.midsussex.gov.uk/gardenwaste where there are answers to several Frequently Asked Questions.

Anyone who is unable to find the answer to their query online should email gardenwaste@midsussex.gov.uk.
Spread the word! The Garden Waste collection Service has been suspended

Got an opinion on this story? Leave a comment below.....
What will you do with your garden waste now, considering that the tip is also currently closed?