Complete List Of Shops Still Open To The Public In Burgess Hill Town Centre
30h March 2020

|


Burgess Hill still remains in lockdown, but a number of businesses have been deemed as 'essential ' and are permitted to stay open at this time. Here's a list of the stores still operational in the town centre: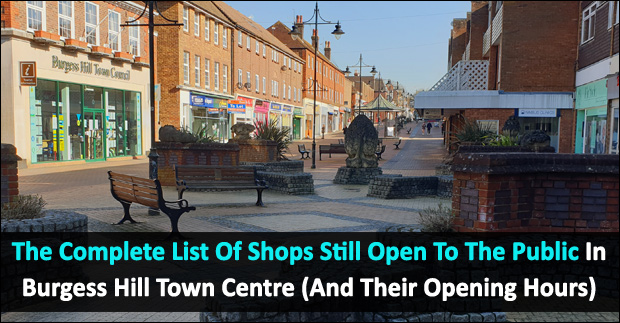 B & M Local - Mon-Sat 10am-6pm, Sunday 10am-3pm
Boots - Mon-Sat 9:30am-2pm, then 3pm-5pm. Sunday 10am-4pm
Burgess Hill News - usual opening hours
Food & Wine - usual opening hours
G Wood & Son Butcher - Tues - 9am-4pm, Wed 9am-1pm, Thurs & Fri 9am-5pm, Sat 9am-1pm (Closed Monday & Sunday)
Grape Tree - Mon-Sat 9am-3pm (Closed Sunday)
Holland & Barrett - Mon-Saturday 9am-4pm (Closed Sunday)
Hopkins Pharmacy - Mon-Fri 9am-5:30pm. Sat 9am-1pm. (Closed Sunday)
Iceland - Mon-Sat 9am-6pm, Sunday 10am-4pm
KJ Thorne Butchers - Mon-Sat 7:30am-2:30pm (Closed Sunday)
More Than Tyres - Call 01444 241947 for delivery of tyres, bulbs, batteries, wipers, brake pads (fitted)
Pets Corner - Mon-Sat 9am-5pm Sunday 10am-4pm (Car park entrance only)
Post Office - Mon-Fri 11am-3pm (Closed Saturday & Sunday)
Sid's Local - Mon-Sat 6:30am--7pm, Sun 8am-7pm
Superdrug - Mon, Tues, Wed, Fri, Sat 10am-4pm (Closed Thursday & Sunday)
Waitrose - Mon-Sat 7:30am-7pm, Sun 10am-4pm
Wilko - Mon-Sat 8:30am-4pm, Sun 10am-4pm
This list was accurate as of 13:00 on Monday 30th March.

A list of takeaways will follow in due course.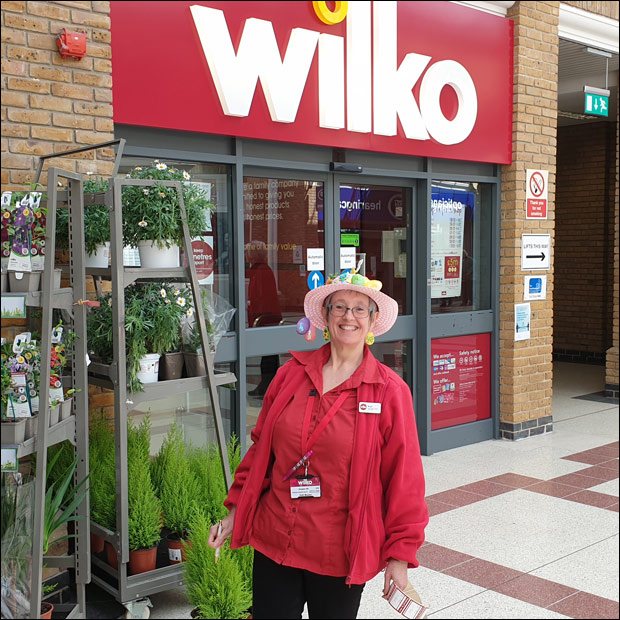 This Wilko employee was well up for being on BHU. Check our her Easter Bonnet!


Spread the word! 17 businesses are allowed to keep their doors open to the public in Burgess Hill....

Got an opinion on this story? Leave a comment below.....
Are you pleased with the range of shops that remain open at present?