Heavy Machinery Finally Begins The Demolition Of The Martlets Hall In Burgess Hill
8th January 2020

|


Waaaaaay behind schedule, but the Martlets Hall is finally being reduced to rubble after heavy machinery began the task of pulling down the outer walls and the roof of the much-loved building on Wednesday.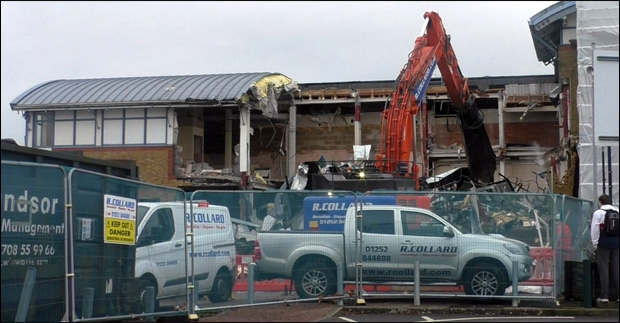 The demolition was supposed to being in April 2019 and last just 10 weeks, but it's been slow-going with a series of unforseen issues and a change of contractors which has led us to the building only beginning to be torn down properly from today - a mere 14 months after the council announced their plans to turn the land into a car park while waiting for the full redevelopment of the Martlets Shopping Centre by NewRiver Reit.

BHU went to the site of the demolition on Wednesday afternoon and were able to get very close to the action when streaming live on the Burgess Hill Facebook Page in a video which has now been viewed over 7k times....and counting!



Quite the crowd assembled in Waitrose car park during lunchtime to view the spectatcle, which has given your reporter a lightbulb moment on how to attract people into the town centre.... DEMOLITIONS! There's a lot to demolish in the next few years *if* NewRiver obtain planning permission and carry out their intended plans. We just need lots of seats, hard hats and safety goggles!

If you're in town over the next few days, pop along to the car park and take a look at the process, it's quite interesting!
Spread the word! The Martlets Hall is finally being demolished ---- for real this time.

Got an opinion on this story? Leave a comment below.....
How are you feeling on seeing the walls of the Martlets Hall being pulled down?