Thank You Janice! The One In the 1 vs 17 On Burgess Hill Town Council
2nd May 2019

|


During the election fever, one person has been overlooked by the local media, but not by us here at BHU. It's time to pay tribute to Cllr Janice Henwood.

For the past four years she has been the sole non-Conservative councillor on Burgess Hill Town Council, battling hard as the voice of the voiceless.

Often spoken to like a piece of dirt, patronised, nearly always the last to be allowed to speak during debates (even when her hand goes up first) and often excluded from council functions (without reason), ladies and gentlemen, if one person deserves to be re-elected at the end of this week, it's Janice.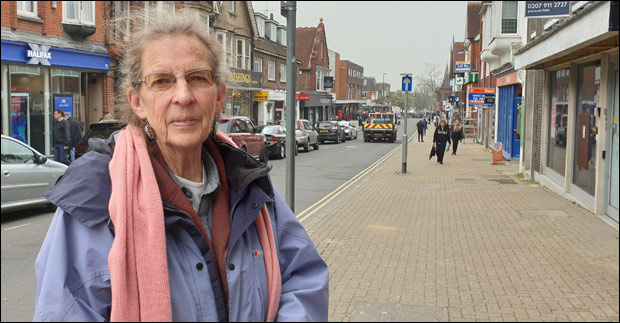 So what was it like to be the one in the 1 vs 17? We met Janice at Frank's Cafe in Church Road for a Q&A...

BHU: So how have you found the last 4 years as the only non-Conservative on the town council?

JH: It's obviosuly been quite lonely in a way. For instance there was no way that I could put forward anything like a 'motion' to be discussed as I never had anyone to 'second' it.

For example a motion would be 'We should be supporting the building of a Changing Places Toilet in our town centre' I would need someone to second that motion and it would go on the agenda for the next full council meeting, so it had to be done a week before the agenda came out.


BHU: So you're saying there's been lots of occasions where you've not been able to hold the councill to account for their decisions because there's only one councillor in oppostion to them?

JH: Absolutely. You can't have a really good discussion about pros and cons, issues that are so important to Burgess Hill because you can't get them on the agenda as a motion.


BHU: What things have you tried to push for and achieve in your limited ability to influence the council?

JH: The town council did support a motion which backed the building of the new college site for Woodlands Meed as that was obviously non-controversial.


BHU: What was your reaction four years ago when you realised that you were the only person in opposition on the town council?

JH: It was overwhelming and quite sad because there were some very good community people that would have made for very good town councillors, so that was quite sad, but nevertheless you persist.


BHU: You're moving from the Meeds Ward and are now seeking election in the Franklands Ward. Can you explain why you chose to switch?

JH: I really supported Meeds Ward because of the positioning of Woodlands Meed School. There were really far more suitable places to position the school. I really felt the residents were getting a bad deal and that's why I supported them. Now that's old history and they hopefully will persue the new college that will be in Franklands Ward actually, and I have lived in Franklands Ward for all the time I've lived in Burgess Hill. I came here from overseas and all our children went to school here.


BHU: What challenges do you think are facing Burgess Hill over the next four years?

JH: The challenges are tremendous and we need people on the council who will question things and won't just nod everything through. I think one of the most frustrating things I found was that I'm sitting at a couuncil meeting, supporting things like Changing Places toilets, and looking at some of the Conservative councillors nodding in agreement with me, but when it comes to the vote, they do not support it. It's been really frustating.


BHU: You were involved with the 'Save the Martlets Hall' or give a like-for-like replacement petition. What's your feelings on how this has panned out?

JH: My feelings are that the only reason the council took action was because of the 6,000 signatures on the petition. We mustn't get dismayed by thinking that we can do nothing, that's why the council acted. When 6,000 people sign a peittion, the town council say 'We ought to take this on-board'

So I think with something like the Library, if we can activate people, get a petition signed and move forward, because it's just totally unacceptable that we in a town like this, with an increasing population and more houses should have a second-rate facility. I also have a problem with where it's positioned. It should be in the Civic and Cultural Quarter of our neighbourhood plan.


BHU: We have the 4,000 home Northern Arc development coming forward that could bring an extra 7,500 residents to the town. In the plans for the highways networks, there is nothing there for the upgrading of the roads in and around the town centre. How do you see that panning out if they do nothing?

JH: I can't quite understand why there's been money given for 'Highways Development' and yet there are only two ways to go East to West through Burgess Hill. We're going to have to have some sort of new tram or bus system or people are not going to come into Burgess Hill from the Northern Arc because you can't get into Burgess Hill now as the traffic is so congested. People will also avoid the town centre because the roads are so inadequate to carry the amount of traffic.

BHU: Finally, what would be your message to the voters going into the election?

JH: We need to have people elected who are involved in the community and people who will question and won't just accept what they are told, we need tenacious people. They will investigate and ask questions. We need lots of questions asked of the District Council because they have so much power. The council requires a cross-section of people, male and female, from across all political parties and independents too.



Spread the word! Janice Henwood has survived four years as the only non Conservative member of Burgess Hill Town Council.

Got an opinion on this story? Leave a comment below.....
Would you like to pay tribute to Cllr Janice Henwood for her efforts?