Police Inspector Reveals The Level Of Policing For Burgess Hill Going Forward
5th December 2018

|


Inspector Peter Dommett from West Sussex Police attended the full meeting of Burgess Hill Town Council on Monday 26th November to give a verbal update on the policing model in Mid Sussex.

BHU Background - Following a cut in front line policing by Sussex PCC Katy Bourne (Conservative) in order to focus on other areas of crime - this despite a huge rise in the police precept paid by local residents - Mid Sussex and Crawley had been sharing a few small teams of officers and PCSOs who would attend where needed. It can be no coincidence that a lack of visible Policing over the past few years has seen a dramatic rise (by Burgess Hill's standards) of anti-social behaviour which has also been racially targetted.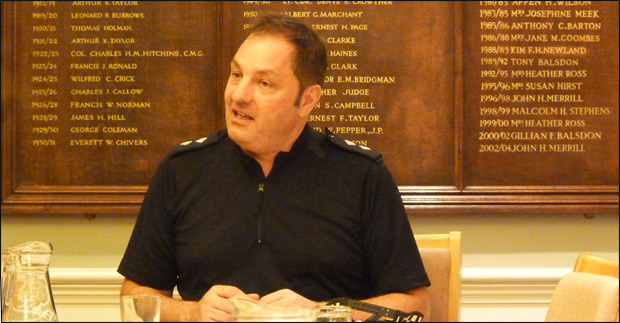 Inspector Dommett revealed that Burgess Hill was his patch between 1992-95 when he working as an officer . Back then, Burgess Hill had TWO beat officers, one covering the north of the town and one covering the south.

Inspector Dommett gave an overview of the current policing climate
'We've been through a period of public services austerity, it hasn't finished, whether it's in sight or not is another matter. Sussex Police has shrunk and we had a challenge to reduce our budget and so policing changed.

"On the edge we have what was called local/neighbourhood policing, which is now called 'prevention' mainly because the National Police Chief's Council came up with that name. Prevention is the area which I cover. I'm responsible for Mid Sussex, the 126 square miles, 138,000 people.

"We are smaller than we used to be, that is due to the nature of policing. Modern policing is now very much behind closed doors. A lot of specialist units have been filled with a lot more officers and therefore the actual physical frontline has got less. It is a FACT of where we are. The ONLY way around it is to increase spending and I'm not sure that there's the political will to do that."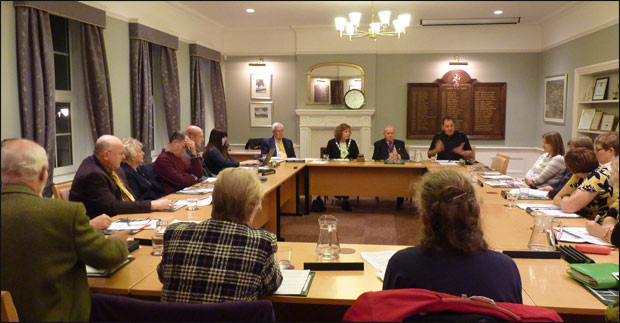 Fielding questions from the members, Cllr Janice Henwood (Lib Den) asked Inspector Dommett if there has been a reduction in man power despite recent recruitment and if Burgess Hill will see a dedicated team of front line beat officers and PCSOs going forward just for the town.

In his response, Inspector Dommett said:
"My team is expanding, so that expansion you will see. The police officers will come in January, but the PCSOs, that will take a little time to come through, so that will be, probably, next year, but it is an overall increase and there is not an overall reduction taking place, it is genuinely increasing.
"In terms of support for Burgess Hill, where we have more resources, its easier actually on a daily basis to say, rather than try and split 4 people between three towns, it is easier enough actually to say on a daily basis 'I will have on any one day, at least a proportion of my staff in Burgess Hill, Hassocks and Hurstpierpoint' which hasn't always had that flexibility.

"So what we're also doing is something called 'Super Hot-Spotting' which is where we identify problems and means that we then take all the free officers that we can find and place them where there's a problem, which is what we're doing at the moment with some of the anti-social behaviour and the schools.

"That's within my gift to influence and obviously that's a matter of discussion that we have at meetings and if there's on-going problems, I can reprioritise what it is. I only have a pie of a certain size and therefore I can cut it only a certain number of ways before I end up with just an arm and a leg."


The other key bits of information, statistics and points made by Inspector Dommett are as follows:
Spread the word! Burgess Hill looks to be getting a dedicated officer(s) shared ) with Hassocks and Hurstpierpoint. But how many are needed?

Got an opinion on this story? Leave a comment below.....
What do you think of the levels of Policing in Burgess Hill?