Incredible Individual Donation Helps To Replace Church's Stolen Christmas Lights
22nd November 2018

|


A generous donation of £1,000 from a local gentleman has seen St John's Church hit their target to replace the 6,000 lights on the giant tree in the churchyard that were stolen earlier in the week.

Your reporter arrived home late last night - having been to see Burgess Hill Town lose 3-0 at Leatherhead - to find a message from an old school friend revealing his donation.

We hope to catch up with Father Kevin O'Brien from St John's Church some time today to get his reaction and to find out when the replacement lights will be put up.

You can see our original appeal for help with more details on our Facebook page here:
http://bit.ly/2zmCUvV

Thank you very much to the person for his generosity.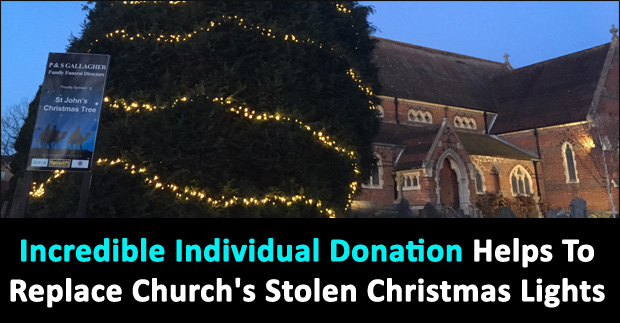 Spread the word, St John's Church's giant tree will be lit up again this year

Got an opinion on this story? Leave a comment below.....
What's your reaction to the news that a large single donation will see the St John's Church Christmas Lights replaced?