Public Consultation Dates Announced For Burgess Hill's Northern Arc Development
10th October 2018

|


Homes England, the Government's national housing agency, will be displaying plans for land to the north of Burgess Hill, known as the Northern Arc, this October ahead of the submission of an outline planning application towards the end of 2018.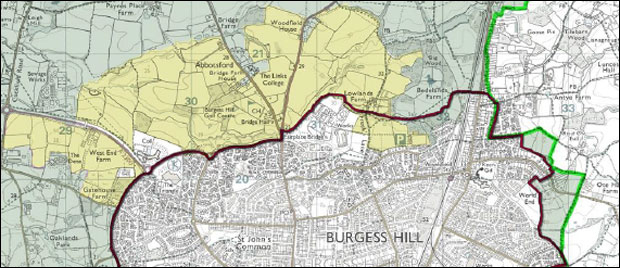 The 481 acre Northern Arc site was included in the newly adopted Mid Sussex District Council Local Plan and Homes England has been working with Mid Sussex District Council and West Sussex County Council since acquiring the site earlier this year.
The Northern Arc will deliver approximately 3,500 new homes (including 30% affordable), new community facilities, three new schools, health provision, employment opportunities as well as vehicle, pedestrian and cycle connections.
The public exhibitions will give people the opportunity to view the proposals and speak to the project team.
The dates and times of the exhibitions are:
Thursday 11 October 2018, 4-8pm
St Wilfrid's Parish Centre, Station Road, Burgess Hill, RH15 9EN

Saturday 13 October 2018, 10am-3pm
The Triangle, Triangle Way, Burgess Hill, RH15 8WA

Tuesday 16 October 2018, 4-8pm
Ansty Village Hall, Deaks Lane, Ansty, RH17 5AS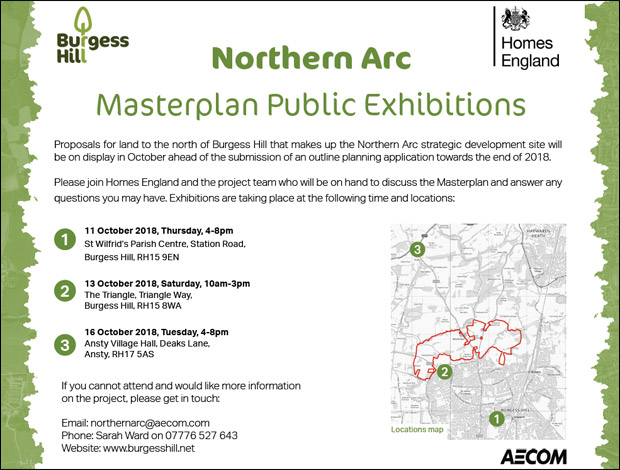 Ken Glendinning from Homes England said:
"This is a flagship scheme for Homes England - delivering a mix of affordable and market priced homes to buy and rent, alongside new infrastructure and community facilities including new schools, a centre for community sport and leisure, play areas and green spaces.

"We want as many people as possible to visit our exhibitions to find out more about these exciting plans for the Northern Arc which are the result collaborative working with Mid Sussex District Council and West Sussex County Council."

Cllr Gary Wall, Leader of Mid Sussex District Council, said:
"These are exciting proposals that will deliver the level of housing that's required to provide homes for future generations and create over 1,000 affordable homes for local people.

"By working with Homes England we can secure much needed infrastructure for Burgess Hill and importantly we know that it will be delivered at the same time as the new homes. The proposals include a number of important improvements, with three new schools, areas for healthcare, community buildings for local groups and areas of economic growth that will provide a significant increase in jobs.

"The Northern Arc is an important part of our wider Burgess Hill growth programme, bringing together all the sustainable components we need as a community to work, grow and thrive."





Homes England will be submitting a planning application towards the end of 2018 and will then seek development partners to work with them to bring forward the scheme. More information on the plans will be made available at www.burgesshill.net and you can get in touch by emailing northernarc@aecom.com


Spread the word! The public consultation for Burgess Hill's Northern Arc takes place during October

Got an opinion on this story? Leave a comment below.....
Will you be attending the public consultation?