Preview: Burgess Hill Town FC Ready To Kick-Off The New Season
10th August 2018

|

Tomorrow sees the start of the new 2018/19 football season in the Bostik League, so BHU went along to the Green Elephants Stadium to see how preparations have been coming along on and off the field for Burgess Hill Town FC.

With the hot and dry conditions this Summer, life has been made difficult for groundsmen across the country who look to grow a luscious green carpet ready for August, so spare a thought for Rodger Puttick, Richard Mamoany and Pav who've had to make do with next to no water pressure after the council replaced a burst 3 inch pipe with one just 1 inch in diameter! A temporary solution was found last week which has enabled to club to use their proper sprinkler again - which is a relief for those that had to keep watering it by hand!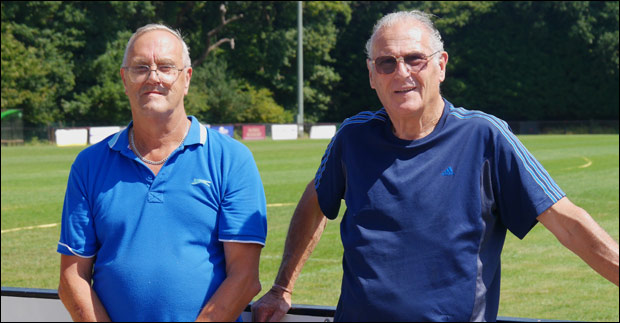 Roger Puttick and Peter Miles, part of the Monday working group.

A lot of the work done at the club is thanks to the effort of the Monday working group who meet at the club every Monday morning all year round to keep the Green Elephants Stadium up to scratch. They clean, paint, carry out repairs, tend to the pitch, often having to prepare the ground ready for a mid-week game along with anything else that needs to be done at the club. There's a group of around 10 regular helpers, most of whom are retired and includes the famous Johnny Buck (who sadly went home before your reporter took some pictures!)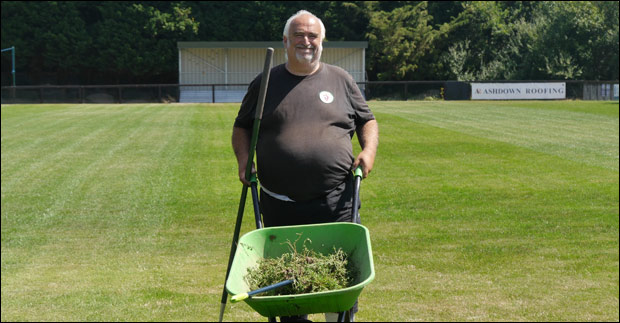 Kit Man Pav was chief pitch waterer during the summer and on Monday morning he was doing a spot of weeding in the blistering heat.

Club General Manager John Rattle is very appreciative of the work done by the volunteers.

"There's always lots of jobs that we can't do during the season that get done during the Summer and it's a massive thank you to all the loyal volunteers who come down and do that, giving up their Mondays - and other days during the week - so we've achieved a lot this year like the dugouts and the filming tower being pushed back to name but a few.

"Our biggest concern has been the pitch which we've had issues with getting enough water on it. We're about three weeks behind, but I'm sure that the English weather will help us catch up at some stage." (Editor: It's rained loads since this interview earlier in the week!)

It's an exciting time for the club, who much like the cricket club, are seeing a healthy amount of growth in their ranks.

"As a club, we're in a stronger positon off the field now with the junior section joining, we've also got the women's section which seems to be revitalised under a new manager and they have a huge part to play in this club going forward" said John.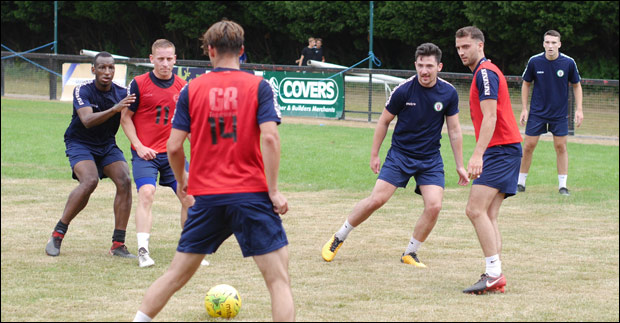 The 2018/19 season will be the club's fourth in the Bostik Premier Division having won the Divison One South in 2015.

"We shouldn't have any surprises going into it. We're at that stage now where we have to let the football do the talking, and volunteers go about their business as well as they do week in week out. It's a season in which I think we'll see our average attendance be boosted again from 380 last year, I can see us going over 400."

After finding life tough at the wrong end of the league since their promotion, Burgess Hill have brought in a number of new signings from the local area during the Summer which has got the fans feeling positive for the season ahead.

"I think we're more settled and I think it's been the club's policy, especially with the Under 23's being so successful last year in their own competition, to bring three or four of those into the first team, during a difficult time last season. We've retained a lot of last year's squad and we've not looked so far afield this year. We've also recruited experience as well which I think is very much needed at this level of football" said John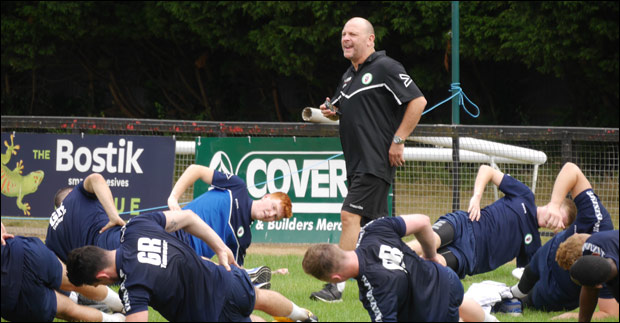 Manager Ian Chapman makes sure his players warm down properly following an open traning session earlier in the Summer.

Away from the sporting side, the club is also seeing growth in the local community with the facilities being used by a number of community groups, as well as a monthly quiz and bingo nights being run in the clubhouse.

"The club's going from strength to strength, not just on Saturdays when there's four hundred people here. It's nice to see that the club's being used more by the local community - and in the summer holidays every day I think - and we have our arrangement with Slimming World, so it's really increased the use of the club and that's not only good for us, but more importantly it's good for the community."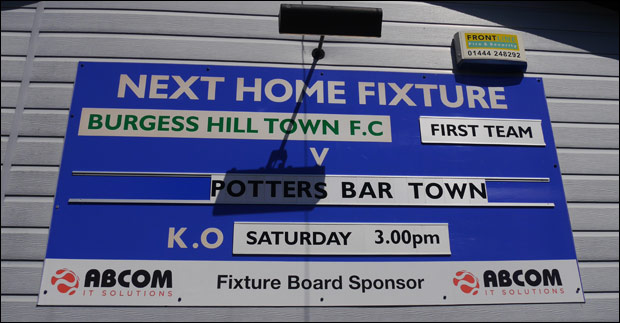 Burgess Hill's first game of the season takes place tomorrow, Saturday 11th August at home to newly-promoted Potters Bar Town. Kick-off is at 3pm. Entry is £10 for adults, £6 for concessions with Under 18's FREE.

At the stadium will be volunteers with collection buckets in aid of St Peter and St James' Hospice. So please give them a few pennies if you can!

For more information about the club and tomorrow's fixture, visit: https://bhtfc.co.uk/



Spread the word! Burgess Hill Town Football Club's season starts tomorrow with a home game against Potters Bar with a 3pm kick-off

Got an opinion on this story? Leave a comment below.....
Will you be going along to support Burgess Hill Town FC this season?