BHU Interview: The Story Behind Burgess Hill's Three Adopted Telephone Boxes
31st July 2018

|


You've probably seen for yourselves, or been told about, the three decomissioned telephone boxes in the Burgess Hill that have been adopted by the community and turned into 'Books Swaps'.

The local resident responsible for spearheading this community project was Anne Miles, so BHU met up with her for a chat to get the full story behind this quirky initative.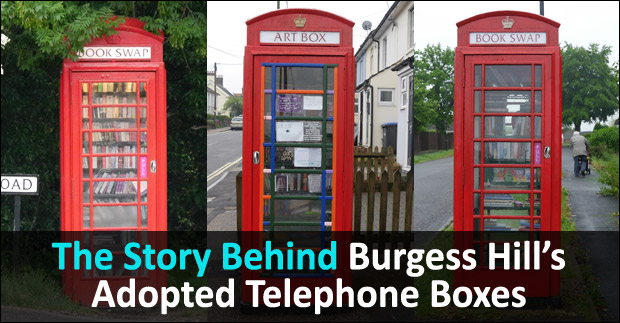 So how did it come to be that you adopted the trio of telephone boxes?
I noticed through a newspaper campaign that BT were going to get rid of all the phone boxes unless they got adopted. All I wanted to do was adopt the Freeks Lane one, but I couldn't do it as an individual, so I approached the council who had to cough up a pound to adopt the phone box, but they were quite reluctant because there had been some vandalism just before that at the Bedelands Nature Reserve, but they finally – kicking and screaming – did agree to hand over the pound on condition that I then took it all forward and didn't bother them again. So that's what happened, and I reported back regularly to the town clerk to tell him how I was doing.

Then I realised that I could apply for a grant to county council, and I managed to get £600 off them, by that time, two other groups came forward and said 'Can you do our phone box as well?' (In West Street and Potters Lane) so we ended up with three!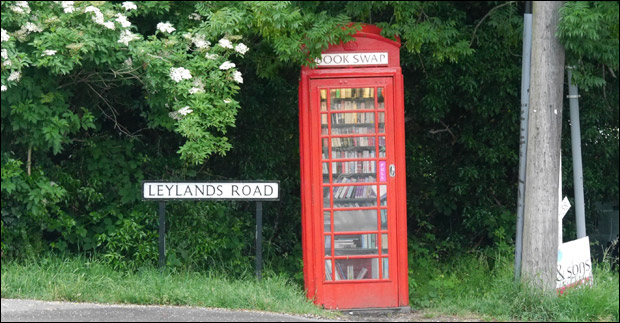 What was the process to getting the Freeks Lane phone box looking like it is now?
The first job was to clear all the ivy and all the other that was growing through the windows into the box. It really did look bad to start with, but in a way it did look romantic all overgrown. So we hacked all that back, I think there were about four of us at the first working party and it was really good. I put leaflets though the door of people living in Freeks Lane and they popped up on email, so that's how I got a group together, I did the same in West Street and Janice Henwood did the same for people living near the phone box on Potters Lane.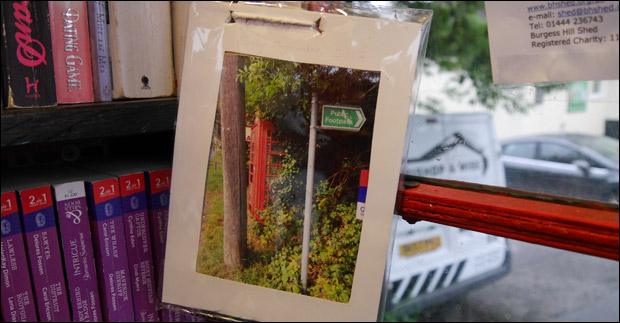 Were there any stipulations on how you could paint the boxes, was there a particular shade of red that you had to use?
If you want it to be the authentic red, yes, Currant Red, so we got the special paint, but in fact, BT said that we could paint them any colour we want, and even the font of the transoms, you could have changed it, but I think that would have been a shame.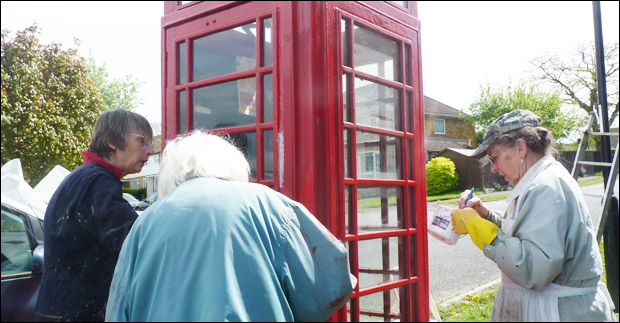 The transoms were made by a guy up in Norfolk who's a real specialist on refurbishing phone boxes, he actually sandblasts them all and does it properly, so he got the signs for me and they cost about £85 for three, so each box cost about £200 each with the paint and the woodwork and the signs.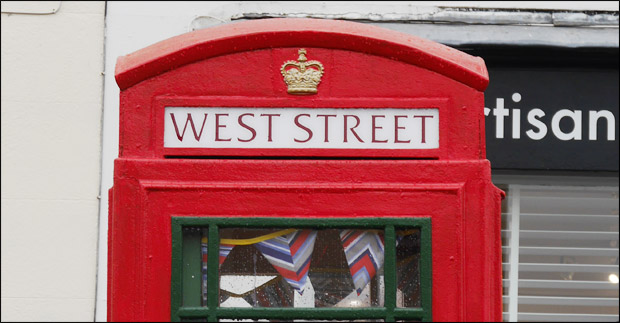 So what's inside the boxes?
They're all Book Swaps, but they're all a bit different. The Freeks Lane one was supposed to have a leaflet shelf but that got overtaken by books, so it's just books - with children's books at the bottom. The bookcases were made by 'The Shed' which is a council-funded initiative run from a workshop at Burnside on the Industrial Estate. All three book cases are slightly different.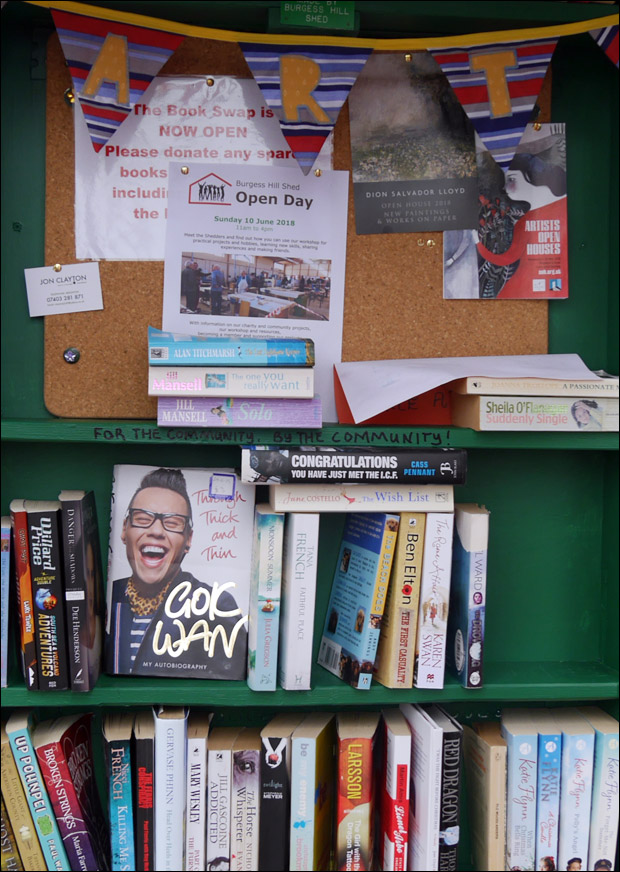 There's a big notice board in the Potters Lane one, and in the West Street one a couple of the local ladies wanted it to be more arty so that kids could take their pictures and stick them up, so the outside of the West Street box is painted in funky colours. There's even a painting of flowers on the outside as a reference to Banksy.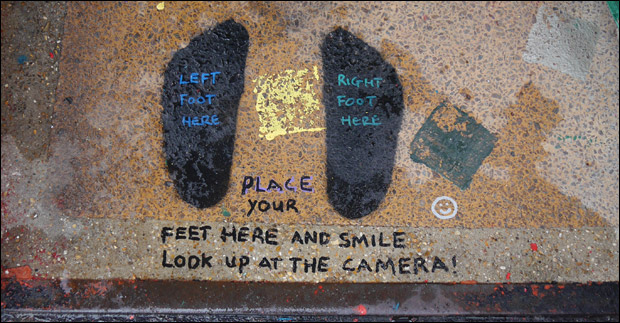 What's the public reception been like?
Very positive. I've not had any negative reactions at all. Some people have said 'Have you had any theft or vandalism yet?' but there hasn't been any yet, and thefts – by definition – doesn't occur, because people are free to take books and bring them back, on not bring them back, so there is no theft involved.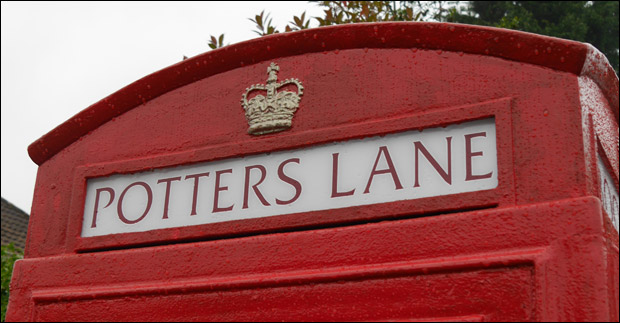 How are you keeping the phone boxes stocked up with the books?
Well that just happens naturally. People just bring them and they fill up naturally,. Each box I put about 10 books in to start, in West Street I didn't even have to do that.




There's now hanging baskets attached to the Freeks Lane Book swap, what's that all about?
Somebody has put these up as part of the Burgess Hill in Bloom Competition. We've been entered into the non-commercial category. I think it's a really cool thing to do and we'll see how it goes!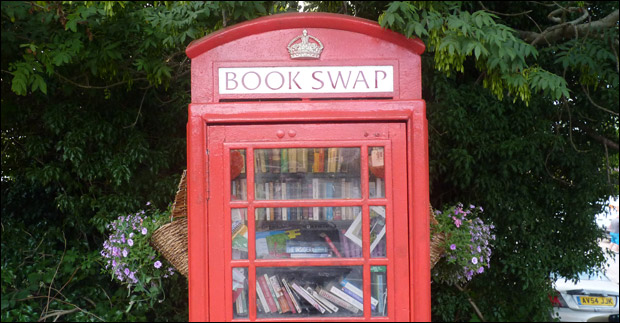 Around the country there have been other uses for adopted phone boxes such as such conversion into ATM machines, holding defibrillators and coffee machines. What was the reason for using a Book Swap?
It's the easiest thing to do and you don't need electricity for it. If you have a coffee shop you obviously need someone there all the time to run it, so it was the easy thing to do. Even with a defibrillator, you had to have an electrician to come and check all the wires and all that, so even that would have been complicated and would have cost more money.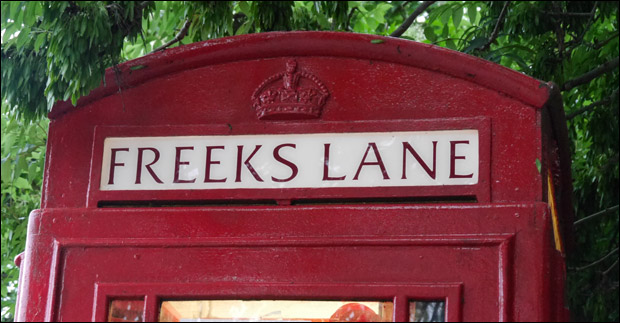 Any help from the local business community?
What was nice was when I was working at West Street, Martin Jupp from Jupp's Fish and Chips came across and he said that anytime you want a free lunch, he said 'even if you're not working on the West Street one, if you're working on the others, you and all your volunteers can come and have a free lunch' and the hairdresser lady gave us free cups of tea, so that's been really good.

I'd also like to thank a staff member from Harris and Hoole, the coffee shop at Tesco. She turned up at the Freeks Lane kiosk with two big bags of books. They were the first donation we'd had, so it was really important, and then she persuaded the cafe to put a collection box there, and so we made a little poster and people were somehow taken by this positive news and I think we collected over one hundred pounds from the cafe which is great and I think that all the information is still on their notice board. So thank you to that lady.

One man, Michael Duck, who lives in Folders Lane, there's no phone boxes out there, and yet he's really interested in preserving them as part of the street heritage and he's been really helpful and he's made some nice posters that we can put up in schools and railway stations.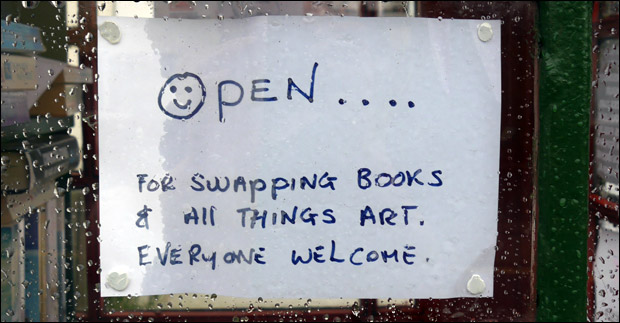 Now that they're open, who's responsible for looking after them?
I'm leaving it completely up to the community and I just think that it'll happen naturally and I hope that people will feel inspired to clean the windows every now and again because that's a bit of a job! I'm planning to put brushes in all the boxes so that people can sweep the floor out and I'm just hoping that it's all going to take care of itself.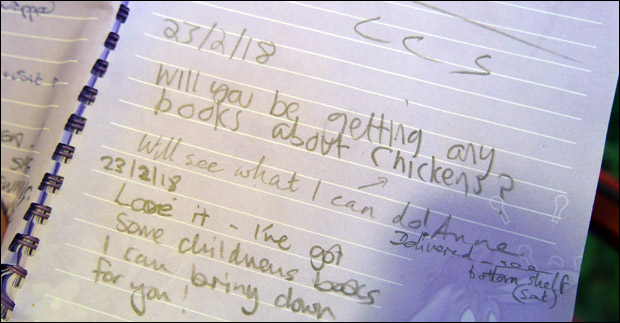 There's a number of other phone boxes left in Burgess Hill, some haven't been decommissioned yet, are you looking to adopt any of those?
I don't really want any more work, but every time I drive past that one on London Road outside the petrol station, I always think 'God, that would look so good if it was painted up' and it's a real shame.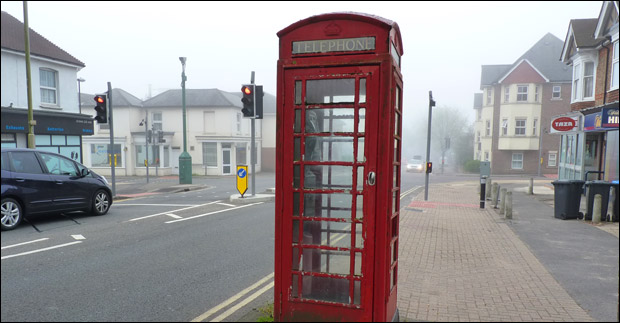 The Royal George Road one was badly vandalised, so that's why we didn't touch that one, we would have liked to.

Has this project given you satisfaction by seeing so many members of the public being enthused about it?
Definitely, and one the best things to come out of this - apart from the street heritage thing - is that people have met each other who hadn't otherwise encountered each other and they might have never met otherwise, and all the people that have been getting involved in this are all community-minded people, so that's been great. I've met some really wonderful people and they've met each other, so for me, that's what this is all about really.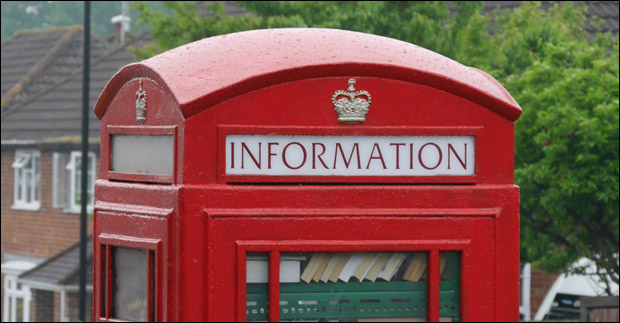 Given your experience, do you think that there's more community spirit to tap into for similar projects down the line maybe?
I think there is, definitely. It's out there, and we need to be less sceptical about fostering it.

What do people need to do if they fancy getting involved?
They should email me at mileves@aol.com and you should definitely look at 'FLACK Burgess Hill' https://www.facebook.com/FLaCKburgesshill/ – which is our Facebook page.

Spread the word, Burgess Hill residents have converted three telephone boxes into Book Swaps for the benefit of the local community

Got an opinion on this story? Leave a comment below.....
What do you think of the Book Swaps? Have you taken any books from them yet?