Store Manager Punched In The Head As Trio Carry Out Park Cameras Robbery
30th July 2018

|


Police are appealing for witnesses following a robbery at a Park Cameras and have released a CCTV image of the three suspects.

At 10.30am on Sunday (22 July) three men entered the popular photography store in York Road on the Victoria Trading Estate in Burgess Hill and went to the front display. One of them, who was wearing gloves, opened the front display counters and picked up two cameras, valued together at £4,700.

The shop manager went to question them and grabbed hold of one of the cameras to try to prevent them from stealing it.

He was then punched on the head, causing him to let go and the trio then ran off with the two cameras, turning right on York Road, then right into Robin Road where they got into a silver Nissan Juke saloon car and drove off.

The shop manager was not physically injured.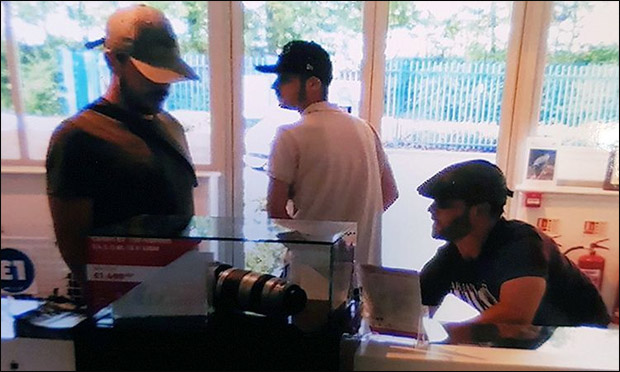 An image from the store CCTV is attached showing the three suspects.
All are described as being in their twenties.
One was white, 6' to 6'1", with thick blond straw-like hair, wearing a white and red polo shirt, dark blue jogging bottoms, trainers and carrying a dark blue drawstring bag.
Another was also white, shorter and of stocky build, with dark brown stubble or a short beard and moustache, with a round face and flat nose. He was wearing a tweed or tartan flat cap, a white top under a longer sleeved patterned or stripy top.
The colour of the third suspect is not clear, but he is 5'10" to 5'11", of slim build, with short dark hair and was wearing a white or light coloured t-shirt and dark jeans or track suit bottoms.
Detective Constable Adam Tidy said; "We would like to talk to anyone who recognises these men, or who may have seen the suspects in the area before or after the incident, and anyone who saw the car."
If you can help please contact us online or by calling 101, quoting serial 548 of 22/07.
You can also contact the independent charity Crimestoppers anonymously on 0800 555 111.

Spread the word, police need help identifying three men in connection with a robbery at Park Cameras, Burgess Hill

Got an opinion on this story? Leave a comment below.....
Did you see the men in the area on Sunday July 22nd?