LJ's Café Thrives In New Location On Church Walk, Burgess Hill
26th July 2018

|


LJ's Cafe had to leave the Market Place Shopping Centre earlier this month to make way for the arrival of Argos. In just a very short turnaround time they found a new home on Church Walk along with other displaced businesses from the centre.

BHU caught up with Lisa-Jane and Karen to see how they've been getting on in the first few weeks at their new location.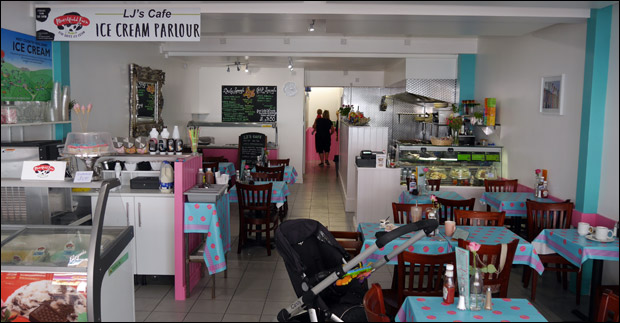 Lisa
I'm really busy and I'm doing better here than I was there (The Market Place) They've done us a favour!

I like it how everyone is back together (Boomerang Barbers, Digital Cafe, Picture Framers and LJ's) we've kept our little community going and it's opened up the town down this end.

I would never stop and look at this part of town on my way to the Post Office because I knew it was all shut, but it's buzzing around here now, its getting busier. I hope it's done all the other traders good as well."

Karen
"I think what's nice about being down here is that when we were in the Market Place, we didn't know if it was rain or sunshine outside! So here you've got a completely different view of everything and hopefully we have brought some life down here."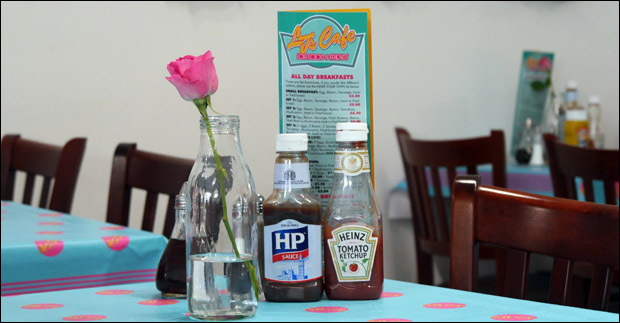 Since news broke a few months ago that Argos was to move into the space occupied by the indoor market traders, LJ's needed to work quickly in order to secure a presence in the town.

Lisa
"From when we had to move out, we got up and running in just two weeks. We basically had to start from scratch with the unit. It was painted bright red so we had to completely repaint, fit all the kitchen out and considering we only had 2 months to find somewhere, move in and get trading, I think we've done it really quickly. We didn't even have a shop window!"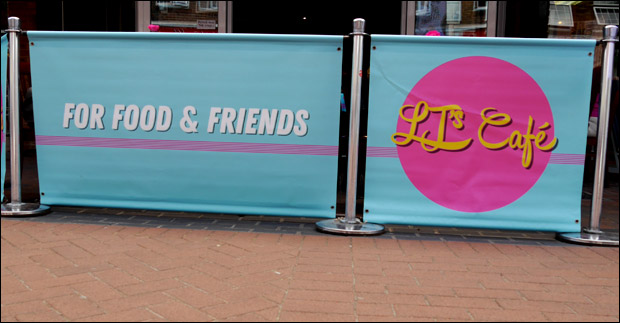 LJ's have gone with a retro feel with their colour scheme of light blue and pink.

The signage was created by Bluelite Graphics Ltd from the Victoria Industrial Estate. Keymer Double Glazing installed the new shopfront, AMD Innovation Printers supplied the menus, other printed materials and the staff clothing.

As well as the local business community, many members of the public also helped out with painting & other jobs to help get the new cafe ready as soon as possible. "Community spirit really ran with us" said Karen

Feedback on the new venue has been positive with customers commenting on how nice and bright the new LJ's is.

Karen
"My favourite thing about LJ's now is the atmosphere that it's created, the outside seating area and how old and new customers have come and supported us, some coming from as far as Eastbourne and Peacehaven."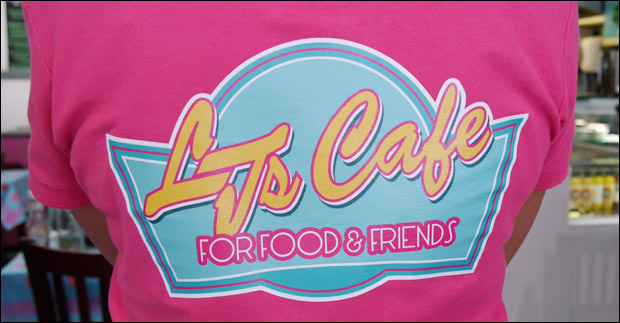 LJ's Ice Cream Parlour
The biggest addition to LJ's is their new Ice Cream Parlour!
You can get sundaes, deluxe sundaes, milkshakes, ice cream in a cone featuring real dairy ice cream from Marshfield Farm.

The range of flavours includes: Coffee Mocha,Caribbean Coconut, Strawberries and clotted cream, salted caramel, bubble gum and Gin & Tonic Sorbet.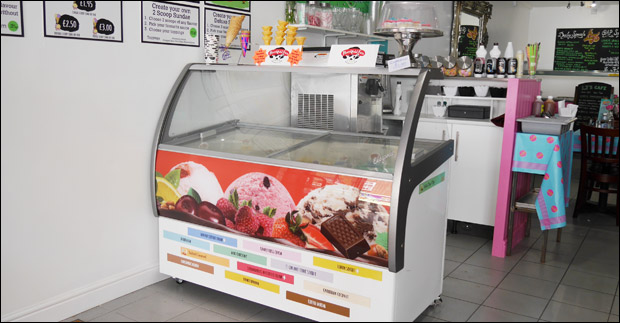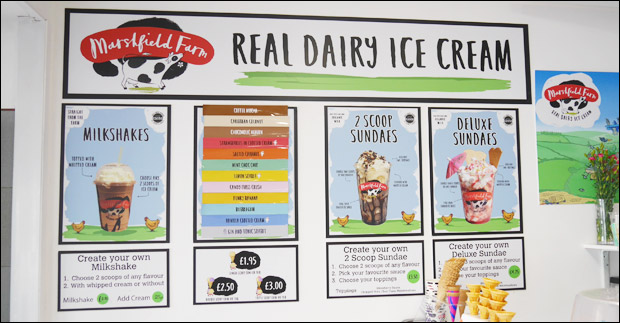 There's even a Mr Whippy Machine and gluten-free ice cream is also available. LJ's hope to expand their range in the future to include a waffles and freak shakes.

LJ's are also looking into holding children's parties in the afternoons which would include guests being able to make their own ice cream desserts.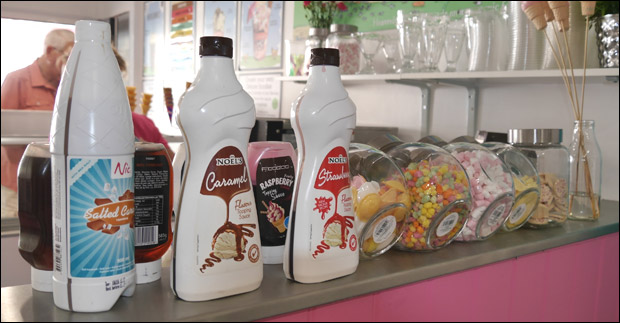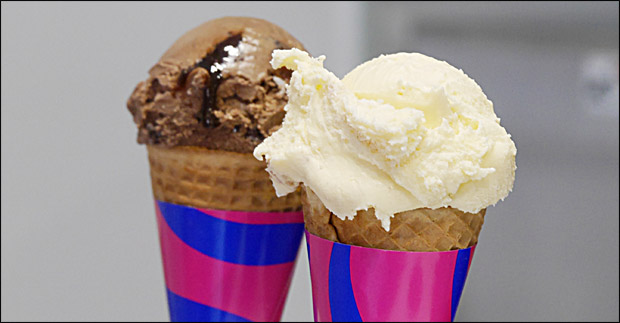 Other special events will include afternoon tea parties, Jazz evenings and the possibility of opening on Sunday's to offer a carvery. New doors really have been opened through their relocation.

LJ's menu has also expanded and they now offer Eggs Benedict, Egg Royale, English Muffins among other new choices.

LJ's are also open to suggestions from customers as to what other items they can add to their menu going forward.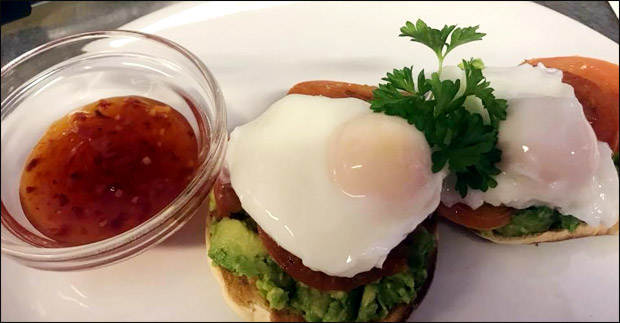 For everything that's new, the team have been keen to stick to their roots and what they are known for in the community.

Karen
"We still want to keep the OAPs going as I think it's important that they can get a good balanced meal with a dessert for £6.95 and on Wednesday's and Thursday's they can get a roast dinner with a pudding for £7.50."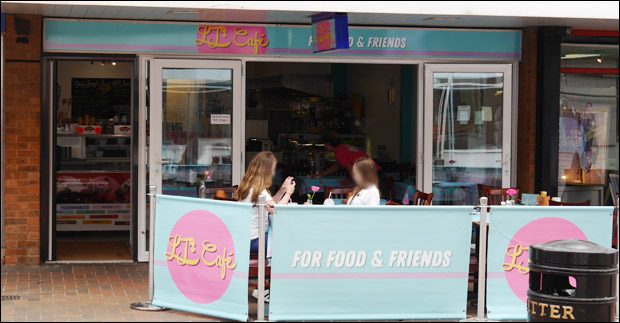 Lj's are one of four businesses to move to Church Walk from the Market Place Shopping Centre.

Jo Stone from Boomerang Barbers relocated a month ago and she's really pleased that LJ's have now joined them:
"It's absolutely brilliant, it's starting to bring a lot of people in, especially now that the cafe is there. We're getting a lot more people noticing us, it's working really, really well, it's nice to have some neighbours!

"For us at Boomerang it's going brilliantly, it's taken people some time to find us due to our very short notice period, but we're starting to see familiar faces and some new people, which is nice as well, it's always good for business."

We wish Lisa, Karen and their team at LJ's Cafe every success in their new location.

For more information on the LJ's, visit their Facebook page here:
https://www.facebook.com/ljs.burgesshill/



Spread the word, LJ's Cafe are thriving in their new location on Church Walk

Got an opinion on this story? Leave a comment below.....
Have you visited the new LJs cafe yet?