Police Conduct Door-To-Door Enquiries For Missing 29-year-old Lyle Ensor Of Burgess Hill
18th January 2018
Police are searching for Lyle Ensor, who is missing from Burgess Hill. The 29-year-old was last seen at his home at about midday on Wednesday (17 January).

A Police helicoptor was spotted over Bedelands Nature Reserve on Thursday afternoon along with a number of other police vehicles in the area.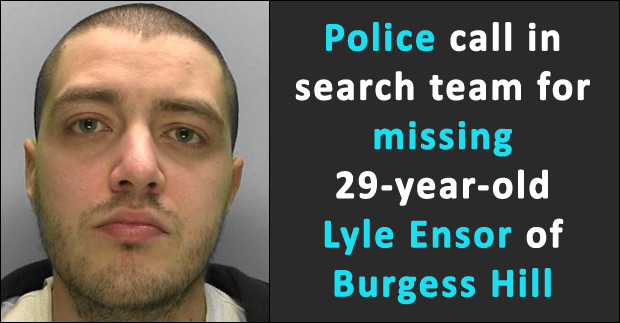 Members of the Burgess Hill Uncovered Facebook page reported having officers knocking at their doors as they stepped up their search for Mr Ensor. Police reportedly told residents that the 29-year-old poses no public threat and that he'd gone missing having received some terrible news.

Sussex Lowland Search and Rescue have also been called in to assist the police.



Mr Ensor is described as white, about 5'8", of slim build, with shaved brown hair. Anyone with any knowledge of his whereabouts is asked to report it online or call 101 quoting serial 559 of 18/01.


Spread the word, Police are looking for 29-year-old Burgess Hill man Lyle Ensor

Got an opinion on this story? Leave a comment below.....
Have you seen Lyle Ensor?