Gang Assault Two Men In Church Walk - Witnesses Sought
4th January 2018
Police are appealing for witnesses after two men were assaulted by a group of around 10 people in Burgess Hill.

The victims, both 19-years-old, were approached by the group on Church Walk, Burgess Hill, at around 10.30pm on Wednesday (3 January).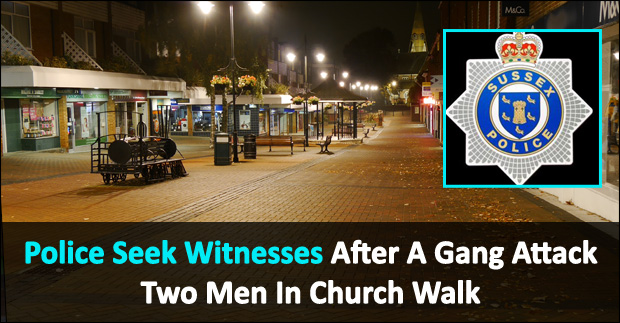 Following an altercation between the two parties, the suspects are believed to have punched, kicked and head-butted the victims.

The victims suffered minor injuries and one had their mobile phone, wallet and watch stolen.

If you were in the area at the time of the incident or witnessed any suspicious behaviour please report online or call 101 quoting reference 1498 of 03/01.

Interestingly, a post was made on Burgess Hill Uncovered's Facebook page an hour before the incident stating:

Watch out for a group of about 8 kids say around the age of 16. Walking along Leylands Road, throwing stuff at car driving past and parked cars in peoples driveways!
Shouting and swearing and leaving cones in the road making the road looked blocked off. Seen all having cans of beer which im guessing is what they are throwing!


Spread the word, police seek witnesses of a double assault in Church Walk, Burgess Hill on Wednesday evening.

Got an opinion on this story? Leave a comment below.....
Ddi you witness a large group of people up to no good around Burgess Hill last night in and around the town centre?