Santa's Burgess Hill Sleigh Tour 2017 -
Routes & Dates
8th December 2017
Santa Claus is coming to town and he's helping to collect money for good causes.

Both the Burgess Hill Round Table AND The Burgess Hill Rotary Club will be out with Santa over the next few weeks.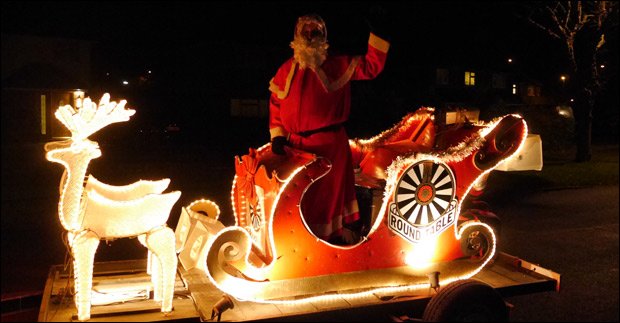 Live Santa Tracker
The Rotary Club and the Round Table both have a live 'Santa Tracker' so if you want to see Santa but he's not coming past your house, you can track him down and meet him on his route.

Rotary Club Tracker: http://www.burgesshillsanta.org.uk/tracker.html

Round Table Tracker: http://burgesshill.roundtablesanta.co.uk/


Here's where you can see Santa in Burgess Hill over the next few weeks:

Friday 8th December 6pm-8pm
Wellbeck Drive, Farnlea, Barkdale, Huntingdon Way, Romaine Close, Welbeck Close, Manor Road, Larkspur Drive, Amaryllis Road, The Vineries.


Saturday 9th December
Hammonds Ridge, Daynes Way, Bulbeck Close, Shotters, Pepper Drive, Payton Drive, Warelands, Mayhouse Road, Owen Close, Ellwood Close, Beale Street, Fox Close, Henry Burt Way, Rastrick Close, Colchins, Pangdene Close, Capenors, Hammonds Gardens.


Sunday 10th December
Weald Road, Southway, Poveys Close, South Drive, Victoria Avenue, Condor Way, Orchard Road, Cherry Close, Erin Way, Pear Tree Close, Westhill Drive, Royal George Road, Condor Way, Fairfield Road, Western Road, Gloucester Road, Slimbridge Road, Newport Road, Cromwell Road, St Mary's Road, Dunstall Farm Road, Shepherds Mead, Lillywhite Close, Dunstall Avenue


Monday 11th December 6pm-8pm
Golden Hill, Johnston Drive, Kings Way, Copestake Drive, Gerald Close, Quarry Close, Rolfe Drive, Mansion Close, Unicorn Way


Wednesday 13th December 6pm-8pm
Glendale Road, Alexandra Road, , Churchill Way, Marlborough Drive, Ravenswood Road, Inholmes Park Road, Avonhurst, Inholmes Close, Broad Green Ave, Wykeham Way.


Thursday 14th December 6pm-8pm
Bourne Park – Robin Road, Skylark Way, Linnett Lane, Brambling Way, Woodpecker Crescent, Blackbird Close, Woodpecker Crescent, Sparrow Way, Wren Close, Coulstock Road, Starling Close, Swallow Rest, Copper Close, Barley Drive, The Maltings.


Saturday 16th December
The Warren, Hambrook, Singleton Way, Pendean, Chilcomb, Bough Beeches, Kilford Close, Drovers Way, The Ridings, The Holt, Badgers Walk, Burdocks Drive, Kings Ridge, Sawyers Close, Coldwaltham Lane, Ruspers, Burners Close, Wheelright Lane, Weavers Close, Thatchers Close, Saddlers Close, Winkhurst Way, Titchfield Close, Farm Way, Rosebarn Close.


Sunday 17th December
Valebridge Road, Chichester Way, Charlwood Road, Downs Croft, Laurel Close, Hawthorn Close, Charlwood Gardens, Valebridge Drive, Leylands Road, Leylands Park, The Spinney, Bedelands Close, Maple Drive (Right), Chestnut Close, Cedar Close, The Willows, Coopers Close, Maple Drive, Leylands Park, Maple Drive, The Hawthorns, Dumbrills Close, Berry Close, Petworth Drive.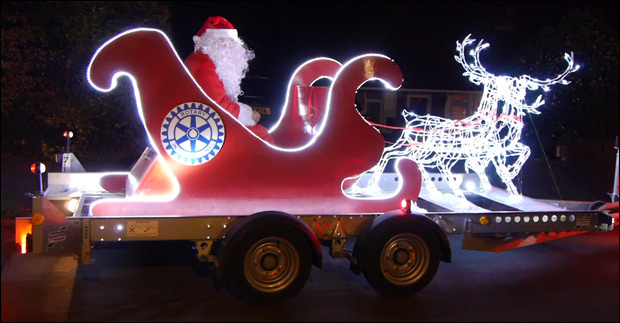 Spread the word, Santa will be touring Burgess Hill on his sleigh for the next two weeks.

Got an opinion on this story? Leave a comment below.....
Are you looking forward to Santa's Sleigh Tour?