Burgess Hill Black Widows Stun Pulbrough Ladies RFC
23rd October 2017
Burgess Hill Rugby Club's Ladies team 'The Black Widows' registered their first ever victory in 15-a-side Rugby with a 46-33 triumph over Pulbrough RFC Ladies on Sunday afternoon at Southway Recreation Ground.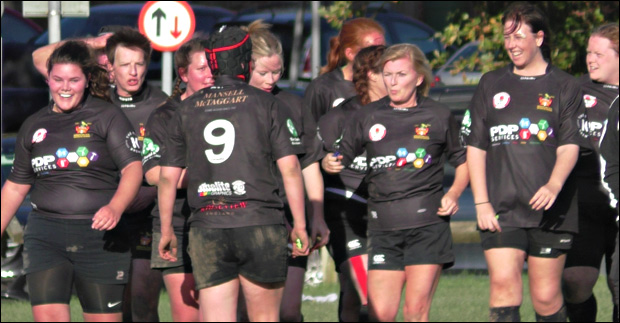 The BHRFC Ladies team were formed last December and have been training hard for the past 10 months with 40 different ladies having been involved in that time.

Sunday's game was only the team's fourth 15-a-side game. They last met Pulbrough Ladies in March where they lost 55-0.

On this afternoon, the form book was turned on its head as the Black Widows put in a performance that showcased just what they've learnt over their short time together. Featuring a few experienced heads, some fleet-footed youngsters, and a disciplined pack with the basic fundamentals nailed down - supporters were treated to a highly entertaining game of rugby where the Widows just kept on fighting in a contest that could easily have got away from them.

In the first half, the Widows amazingly scored 4 tries to Pulbrough's 3. However, the teams were only split by a single point at half-time as Pulbrough converted all three of their efforts while Jenny Weller managed to get the ball between the posts from just one of her four kicks.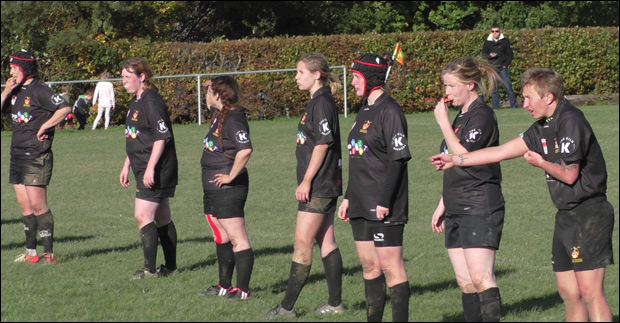 After only 39 seconds of the second half, Pulbrough's number 10 broke free to score under the posts. The try was converted giving the Misfits a 6 point lead with the score at 22-28. This should have been the cue for the visitors to go on a scoring spree, but it just didn't materialise.

The Widows defied expectations again by hitting back with 4 tries in a row to open up a stunning 46-28 lead. Four minutes past the 80, Pulbrough scored their fifth try of the game for a final score of Black Widows 46-33 Pulbrough - which was a fairer reflection on the game as a whole.

The Widows scored 8 tries in all. They came from:
Louise Blunt x2, Ghislaine Moolenaar x2, Lucy Tyrrell x2, Anna Chad and Shelley Barnes. Jenny Weller scored points from 3 of her 8 Conversion kicks.

You can next see the Black Windows in action on Sunday November 5th at Southway Recreation Ground where they'll entertain Tonnridge Juddians 2's with a 2pm kick-off.

See all the Black Widows' tries from Sunday's game in our video below:




Join The Black Widows
The ladies team are looking to grow their squad and warmly welcome any prospective new players to come along to one of their training sessions on a Wednesday evening from 7:00-8:30pm at Southway Recreation Ground, RH15 9TA.

You don't need any previous Rugby experience. You'll be taught all you need to know by qualified coaches and assistants.

To join the Black Widows you need be to be 18 years of age to take part as a full member of the team. 17 year-olds are permitted to join with parental consent - but are restricted to play in one of the 'back' positions.

Match days take place on a Sunday and include a free post-match cooked meal!

The cost to be a member of the Black Widows is just £7 per month - which is fully inclusive of all training sessions and matches.

For more information, contact team manager Louise Skelhorn:
l.skelhorn@sigma-partners.co.uk
or check our the Black Widows Facebook page:
https://www.facebook.com/BHRFCBlackWidows/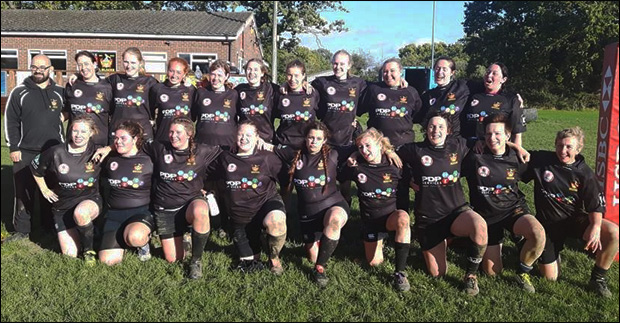 Spread the word! The Black Widows got their first win ever in fine style!

Got an opinion on this story? Leave a comment below.....
What do you think of Burgess Hill now having a ladies rugby team? Could you be inspired to join them?