*Breaking News* County Council Suspend Charges For Disposal Of DIY Materials At Burgess Hill Tip
11th April 2017
Sensational news this afternoon as West Sussex County Council have announced that they have suspended the disposal charges for DIY materials at Burgess Hill Tip.

Opposition political parties had put pressure on the council by insisting that the charges went against government guidlines and were therefore illegal. The council have now decided to stop charging people to dispose of bricks, hardcore, plasterboard, soil and other types of material until they fully understand the latest government guidelines.

This news will please residents of Burgess Hill. When the new charging schedule was introduced last October, locals were shocked that they were being charged a flat fee of £4, even if they had just a few bricks to dispose of, or in one case, half a piece of plasterboard!!!

It was unsurprising that after three months, WSCC announced a reduction in those sort of materials being disposed of!

The question now needs to be asked, if these charges were unlawful, will the County Council refund all those that had to pay yo dispose of their household waste items?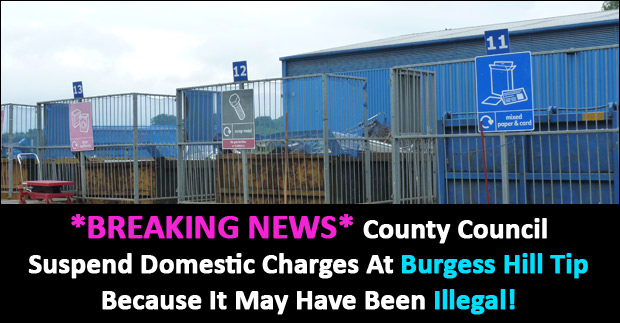 Statement from Nathan Elvery, Chief Executive at West Sussex County Council:
"Following the recent statement made by the Rt Hon Andrea Leadsom MP, Secretary of State for Environment, Food and Rural Affairs, it is the Government's intention to review its guidance with regard to the charges that can be made at local civic amenity sites and the specific reference to the disposal of DIY materials generated by householders.
"In order to avoid any potential confusion for our residents in West Sussex we have decided to suspend all charges for these type of materials with immediate effect until the review by the Government has been concluded.
"From today therefore householders visiting any West Sussex amenity site will no longer be charged for the deposit of material which results from the sort of work householders would normally carry out on their homes – what most people would refer to as DIY waste.
"Once the Government's review has been concluded the County Council will look at the matter again."
Charges for tyres at Household Waste Recycling Sites remain in place.
You can read the Government's new Litter Strategy for England here.

Spread the word, West Sussex County Council may have been illegally charging to dispose of certain types of household waste.