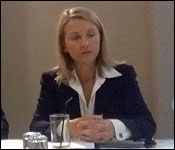 Sussex Police Crime Commisioner Katy Bourne:
"This rise will mean an extra £3m to invest in vital services to ensure that policing in Sussex reflects local priorities,"
"Local policing is adapting to match changes in crime so the new Community Investigation Teams will provide extra resources to crack down on small groups and individuals committing low-level crime and anti-social behaviour in our towns and villages.
"Early intervention is proven to help steer young people away from crime. Our Expert Youth Teams will be working across the agencies, including our schools, in order to spot the opportunities when the most susceptible are in danger of crossing the line."
She added: "After the terrorist attacks in Europe and with the UK threat level set as 'severe', it is important that people can be reassured that in Sussex we have enough specialist armed officers and equipment. When they are not being deployed or in training, Armed Response Officers support local policing teams so an uplift of 52 officers will put more highly trained officers on our streets.
"This increase will also mean more Public Protection Investigators. In previous precept consultations I have asked the public to help fund additional resources in this area. Although this has increased the number of officers and staff, Sussex still spends less per head of population than similar-sized forces as the reporting of these types of crime continues to rise so this investment is greatly needed."

The funding breakdown will be:
• Community Investigation Teams (£1.03m)
• Armed Response Officers (£1m)
• Public Protection Investigators (£1.25m)
• Expert Youth Teams (£0.92m)