Triangle Leisure Centre To Upgrade Their Lockers
15th January 2017
The Triangle plans to give visitors an even better swimming experience by investing in new lockers in the swimming pool changing rooms this January.
These improvements form part of joint investment plans across the leisure sites in Mid Sussex, jointly funded by both Places for People Leisure and Mid Sussex District Council.
Work will commence on the existing lockers on Monday 16th January, with 450 new lockers being installed over the next couple of weeks. There is no expected impact on the swimming session times or swimming lessons during these works and any disruption will be kept to an absolute minimum.
Tom Carter, General Manager of The Triangle, said "We are delighted to be able to replace the lockers in the swimming pool changing rooms, particularly since we have been aware for some time that the old lockers were causing increasing frustrations.

" We want customers to know that we are listening to them and working hard to make improvements to the centre that will benefit everyone."
As part of the upgrade, the number of larger lockers is going to increase. However, in order to achieve this, the centres have had to slightly reduce the overall amount of lockers - previously the number stood at 510.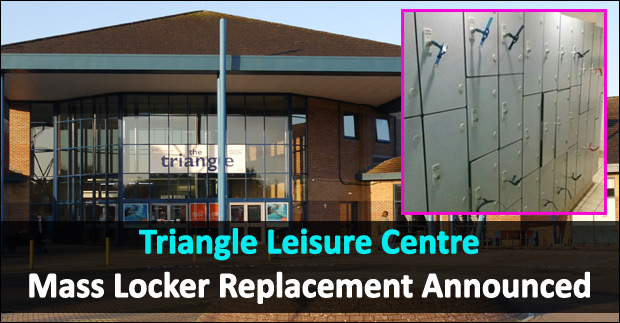 Spread the word, the Triangle Leisure Centre are finally getting new lockers!

Got an opinion on this story? Leave a comment below.....
Are you please that the Triangle Leisure Centre are to finally introduce a whole set of new lockers at the centre? What had been your troubles with the old ones?