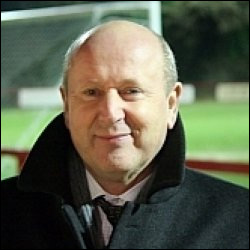 We have started the New Year rather sadly with poor performances away at Folkestone and today we came up against a very good Leiston FC team.
I know Ian Chapman has put his thoughts on the website last week. He feels it very deeply when the team let him, his staff, and all of us down. Nevertheless, now is the time to get behind the team and put these performances behind us.
The manager's job is not made any easier by the budget constraints I have to apply to him. Running a team at this level is an expensive exercise. I've not been able to make additional funds available, because we have to find from our own resources the expenses to meet the ground improvements which are both desirable and necessary to play at this level.

Most other clubs are able to get help in the way of grants from the Football Stadium Improvement Fund, but because Mid Sussex District Council won't extend our lease, we don't qualify for grant aid.

Since I've been involved, I've had to accept a five-year lease three times, because each time the Council have told us the ground is going to be re-developed, but 15 years on and there's no sign of it. I met again with the Council before Christmas and received encouraging words, but since then, absolutely nothing !

It's more than a little frustrating, especially as the Leisure Facility study commissioned by the Council in 2009 suggested the organisation of a working party with BHTFC 'by 2011/12' to consider the options available. The council have never even approached us on this.
If you share my frustration about the Council's lack of support for the leading sports club in its district, please raise it with your local councillor. All addresses are on the Mid Sussex web-site.
So, as a club, we stick together and get behind the Manager, the team and all involved at the club.
Thank you.
Kevin Newell, Chairman, Burgess Hill Town Football Club