Audio: Councillor Wants WW1 Veterans At 100 Year Anniversary Pageant In 2018...
27th October 2016
Oh dear readers, Cllr Colin Holden made a right fool of himself at a recent council meeting by suggesting that World War One veterans in the area could take part in a pageant to mark the 100th anniverary of the end of the great war in 2018.

Here's the audio:



Cllr Holden's comments came at the Burgess Hill Town Council Community Engagement Key Area Group Meeting on Wednesday 26th October.

The committee were discussing an extra agenda item as they had learnt that there are big plans nationally to mark the 100th year since the end of World War I in November 2018.

Burgess Hill's community development officer is already looking at holding a pageant as well as the town taking part in a national beacon lighting ceremony in the evening.

Cllr Holden's fellow councillors instantly pointed out that there are no World War One veterans left alive, mentioning the names of Harry Patch & Henry Allingham who both passed away in July 2009 aged 111 and 113 respectively.

We have a feeling that this isn't the last you'll hear about Cllr Holden on BHU....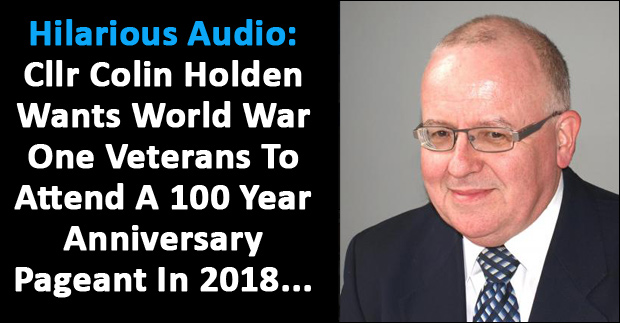 Spread the word, a Cllr thinks that WW1 veterans are still alive and wants them at the 100 year anniversary to mark the end of the great war.

Got an opinion on this story? Leave a comment below.....
What do you think of Cllr Colin Holden thinking that World War Veterans could still be alive and living in Burgess Hill?