"F*ck Off You C*nt" - Mid Sussex MP Blasts Burgess Hill Resident On Twitter
2nd October 2016
Mid-Sussex MP Nicholas Soames has sensationally told a resident of Burgess Hill to 'F*ck Off You C*nt' on Twitter on Sunday evening.

Soames was tweeting to Piers Morgan about the Ryder Cup and used the hashtag '#he'llgethisgogettadatigerRorygentlemeninEnglandnowabedetc' which makes little to no sense at all.





Local Burgess Hill resident Matt Charman replied to the Mid Sussex MP, declaring his hashtag as the worst ever, asking if he'd sat on his phone.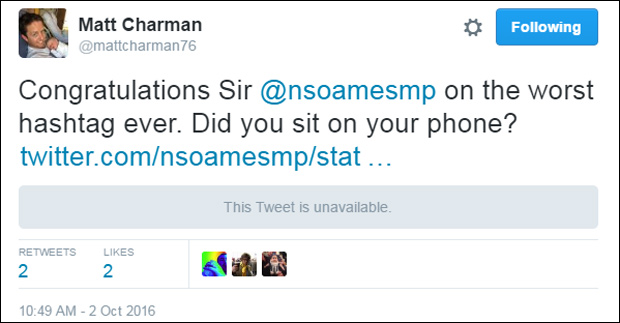 Soames replied by saying 'Thank you very much, we try always to give satisfaction, now F*ck Off You C*nt'. Trust us, that's what 'FOYC' means.





Wow.

For Mr Charman, it has capped off a great day..

Twitter users reacted: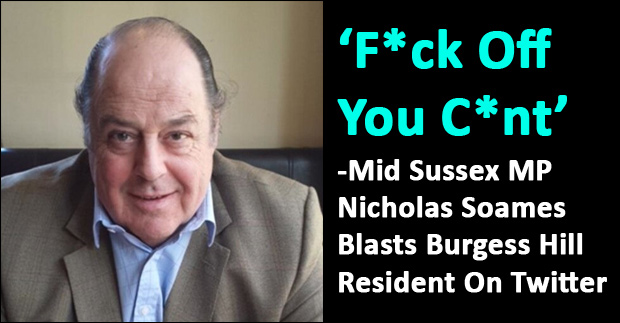 Spread the word, Mid Sussex MP Nicholas Soames has told a Burgess Hill resident to 'F*ck Off You C*nt'

Got an opinion on this story? Leave a comment below.....
What's do you think of Nicholas Soames' tweet. Did Mr Charman deserve to be spoken to like that? Is Soames' behaviour befitting of an MP? Are you surprised?