The Sussex Bus Sell ALL Their Bus Routes To Compass Travel
28th September 2016
The Sussex Bus will be no more from 1st October as parent company 'The Heritage Group' have sold all of the routes operated by Sussex Bus to Compass Travel (Sussex)


Here's the full press release published by Compass Bus

Compass Travel (Sussex) Limited, one of the UK's leading independent bus operators, is pleased to announce that it has signed a Sale and Purchase agreement to enable it to take over the routes currently operated by theSussexBus in mid Sussex and beyond.

The sale will enable Compass to integrate their mid Sussex services with these routes and provide theSussexBus staff with continued job security. Passengers will also benefit from a more flexible travel option through the Compass network.

theSussexBus felt it was the right time to make this decision, following the loss of its premises at Burgess Hill for housing development and the decision of a Senior Advisor to retire. It was thought that Compass, as an established operator in the area, would be best placed to secure the future of the services.

The Heritage Group will continue with its core activities of Coach Hire, Coach Excursions and its Commercial Garage, with Coach and Bus Sales adding to the group.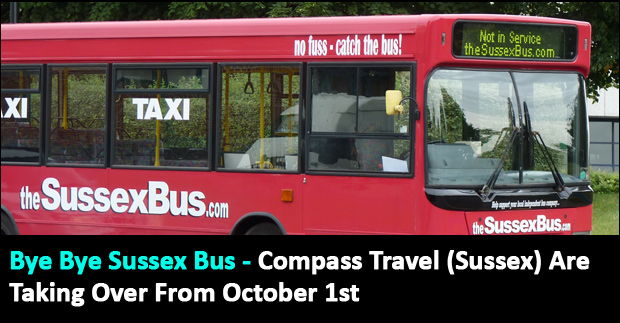 Chris Chatfield, Managing Director of Compass Travel said, "I am delighted to have reached a mutual agreement with theSussexBus to continue these routes as part of our expanding network. We look forward to serving new and existing passengers."

Compass will take over the operations of theSussexBus routes with effect from Saturday, 1st October 2016. Apart from just one change to Route 33 Saturdays, routes and timetables will be unchanged. Monthly/weekly tickets issued by theSussexBus will be accepted by Compass until expiry. Full details will be available on the Compass website: http://www.compass-travel.co.uk/
Spread the word, the red Sussex Buses in Burgess Hill are to disappear as Compass Travel take over.

Got an opinion on this story? Leave a comment below.....
What's do you think of Compass Travel taking over from the Sussex Bus? Can the service be improved upon or were you happy as things were?