Disused Toilet Block Perfect For Disabled Use Is To Be Used For Storage!!!
22nd September 2016
The disused public toilet block in Cyprus Road is about to be brought back into use and would be PERFECT for Mid Sussex District Council to convert into a 'Changing Places' toilet facility for disabled users. Sadly, there's other plans...

Spotted in the agenda for next Monday's meeting of the full town council is an item revealing that MSDC are to lease the disused toilet block to Burgess Hill Town Council for.....STORAGE.

Mid Sussex District Council came under fire from disability campaigners in July when it was revealed that no 'Changing Places' facilities would feature in the £65million Martlets shopping centre redevelopment.

The council did say that they would be supportive of such a facility in the future. The perfect opportunity has come up in the shape of the former toilet block. It has all the plumbing, drainage and electrics feeding it, is located right in the town centre, in a car park, next to disabled parking spaces, yet they are leasing it out to the town council at a peppercorn rate for STORAGE.

Here's the details from the agenda for the meeting next Monday at 7pm at the BHTC: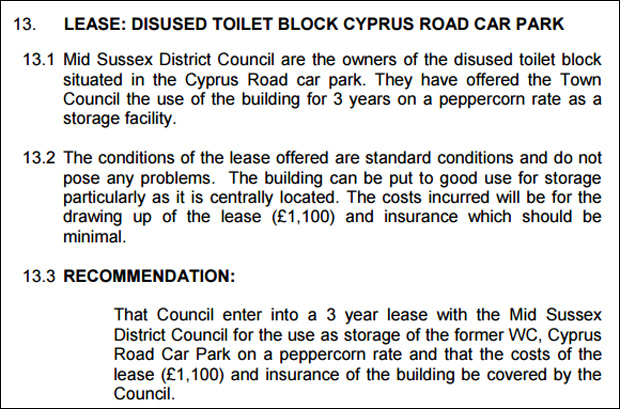 This was an ideal chance for Mid Sussex District Council and our councillors to right a wrong. A chance to prove that disabled adults and children matter, to allow them to have some dignity with their toileting needs, which would also enable longer visits to the town centre, but seemingly they've not even considered it.

It really will now be MANY years until the town gets a Changing Places facility. Are we all prepared to sit back and let this happen?

Any councillor with an ounce of human compassion will reject the plans to use the toilet block for storage and will lobby MSDC to make it into a Changing Places Facility.

Expect much 'grandstanding' from the councillors over this issue on Monday evening, but they'll still take the storage option.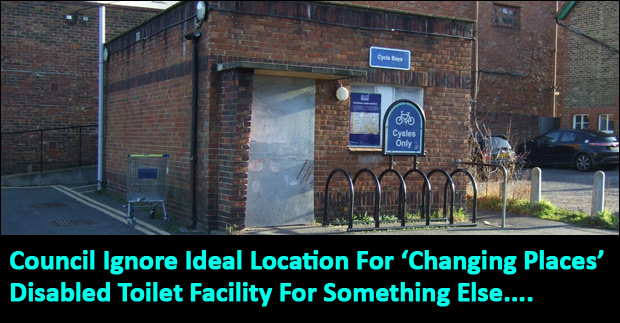 Spread the word, Mid Sussex Distirct Council and Burgess Hill Town Council are passing up the chance for a specialist disabled toilet in town.

Got an opinion on this story? Leave a comment below.....
What's your reaction to the council overlooking a great opportunity for a changing places toilet facility in the only viable existing location in the town centre?