Witness Appeal Following Attempted Armed Robbery In Burgess Hill
31st August 2016
Police are appealing for witnesses following an attempted armed robbery in Burgess Hill on Tuesday afternoon (30 August).
At around 3.30pm a man walked into The Paper Shop in Leylands Road wearing a black curly wig, sunglasses and with a piece of black cloth covering his mouth. He was carrying a red and white carrier bag which was covering what is believed to be a small gun.
He pointed the bag at a member of staff and asked them to empty the till. The panic button was pressed and the suspect ran out of the shop empty-handed.
A witness outside saw a white, bald man with a black wig in his hands run towards Junction Road.
Detective Sergeant Karrie Bohanna said: "This must have been an extremely frightening ordeal for the shopworker.
"I'm pleased to say that nobody was hurt and would ask anyone who was in the area at the time and who saw something suspicious to contact us."
Witnesses can email 101@sussex.pnn.police.uk or call 101 quoting reference 871 of 30/08.
Alternatively, you can call the independent charity Crimestoppers anonymously on 0800 555 111 (www.crimestoppers-uk.org).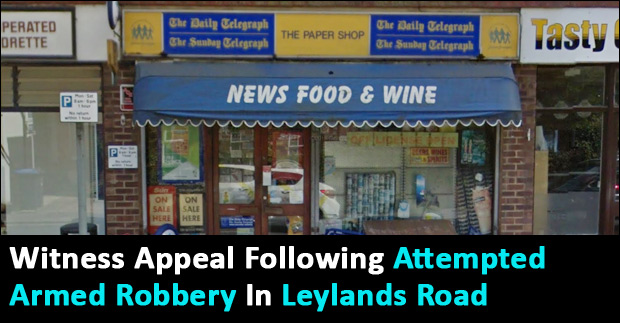 Spread the word, the was an attempted armed robbery in Leylands Roay