A petition has been created on the West Sussex County Council website, calling for the local authority to introduce traffic calming measures along West Street to make it safer for pedestians.

An incident earlier this year prompted Rebecca Gardiner to create the petition after WSCC have ignored many calls over the years about the issue of speeding cars along one of the town's main roads which makes it tricky for pedestrians to cross without extreme caution.

Rebcecca Wrote:
A young boy sadly lost his life after being hit by a car while crossing the road by "Jupps" fish and chip shop on West Street in 1994. But nothing was done to improve the safety of this area of road. How many fatalities must we see before a road is made safer?

Everyone I have spoken to in the area agrees that West Street is not safe for pedestrians. Do we really need more fatalities for the Council to agree? I truly hope not.

What should be implemented to make West Street safer: a zebra crossing or mini-roundabout to slow traffic and provide easier pedestrian crossing by "Jupps" fish and chip shop and by the "Cricketers" pub. A speed camera or speed bumps should also be considered, as they would be an effective way to slow down traffic.
Sign The Petition
If you agree with Rebecca and would like to see WSCC introduce measures on West Street, then you can sign the petition by following this link:

http://epetition.westsussex.public-i.tv/epetition_core/community/petition/3444#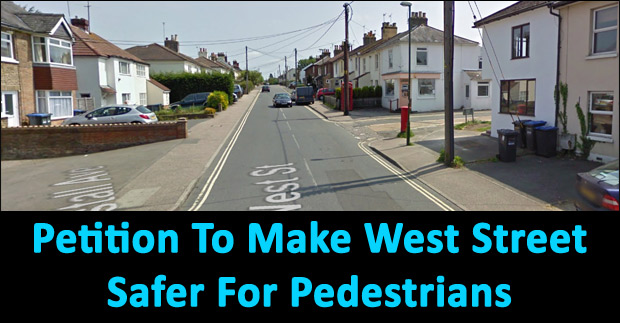 Spread the word! The're a petition to try to get WSCC to make West Street Safer

Got an opinion on this story? Leave a comment below.....
Do you think it's a good idea to petition the council in a bid to get traffic calming mesaures on West Street? What are you experiences of this road? What specific traffic calming measures would you introduce?