REVEALED: The Location Of Two New Schools For Burgess Hill
12th January 2016

Two new schools are to be built in Burgess Hill with the town's population is set to grow by nearly 50% over the next decade.

As part of the town's residential expansion, around 4,000 new homes are to be built in the 'Northern Arc' spanning from St Paul's School in the west all the way across the fields to the east of Issacs Lane.

One part of this proposed development is 'Heaselands Park' which will be built upon 57 hectares of land as indicated in the diagram below....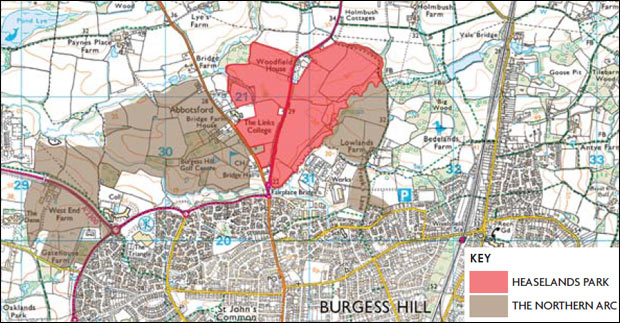 Here's where the two schools will be going...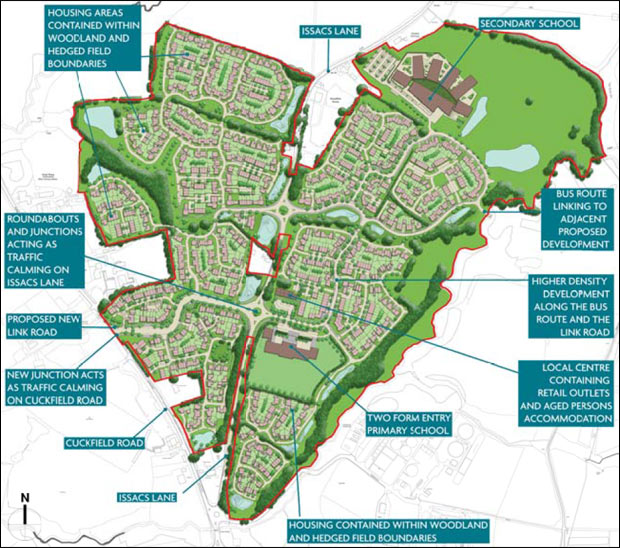 Wates Developments will be building a two form entry primary school in the southern end of the site and providing the land for the local authority to construct a new secondary school at the northern end.

Heaselands Park will also provide :
1,050 new homes

A local centre containing up to 1000sq.m of retail and an aged persons scheme;

Open space provided at 2.4ha per 1000 of population. This will be in the form of amenity space, and a variety of different types of play areas.

Some traffic calming along the section of Issacs Lane adjacent to the site. This is in the form of roundabouts;

Some traffic calming along the section of Cuckfield Road adjacent top the site. This is in the form of a new junction from Cuckfield Road to the new link road;

The identification and protection of existing trees, woods and ancient woodland within the
site.
A full planning application for Heaselands Park had been expected at the end of December 2015 but has yet to come forward, so it could happen any time now. We'll let you know when it does.

Spread the word, two new schools are proposed for Burgess Hill

Got an opinion on this story? Leave a comment below.....
What do you think of the Heaselands Park proposals? Will a new secondary school cause Oakmeeds' dated building to be the second choice secondary education establishment in Burgess Hill?