REVEALED! How Many People In Burgess Hill Identify As Jedi Knight
7th January 2016

It's amazing what you can find out via the UK Census Data website. Following a tweet relating to data in Burgess Hill, we did some research of our own, discovering that we have many people identifying as 'Jedi Knights' in our town.

The breakdown by ward is as follows:

Dunstall: 20, Franklands: 17, Leylands: 21, Meeds: 28,
St Andrews: 17 , Victoria: 45
It seems like the Victoria ward is the place to be if you want to be among a larger portion of Jedi Knights!


Did You Know?
Census figures show that 176,632 people in England and Wales identify themselves as Jedi Knights, making it the most popular faith in the "Other Religions" category on the Census and the seventh most popular faith overall.
You can do your own research for wards in the Mid Sussex district here:
http://ukcensusdata.com/mid-sussex-e07000228#sthash.PKgqbqle.dpbs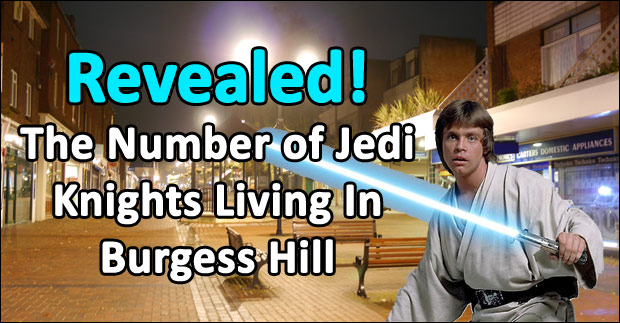 Spread the news, we have many Jedi Knights among us in Burgess Hill!