CONSISTENCY……………….
Ian Chapman asked for the players performances on the pitch to be more consistent this season to ensure we survive in this league.
We have to do this off the pitch too…..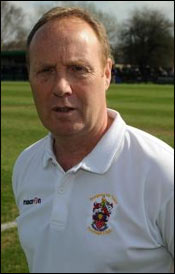 You may have noticed on your last visit to the ground, the old portacabin office has been replaced by a new one ? This will become both an office and a new Boardroom Hospitality Area. It's prime location will enhance the offer to visiting officials, our own directors and match sponsors.

By moving the current boardroom, we hope to improve the facilities in the bottom bar in the clubhouse by providing more toilets, inc disabled/baby changing facilities. The area would also provide enough room for us to upgrade the match officials changing facilities which needs to have a separate female facility too.
Along with the covered terracing for 200 people we need to install to meet the ground grading requirements to remain in the Ryman Premier League next season.
At the moment, the club is financially 'sound' but both these projects would drain any club's finances. So how do other clubs do it ? FA funding/lottery schemes etc is the answer in the majority of cases.
There are various funding options available BUT all require the applicants to have a lease of 10 years or more – something that we don't have with our landlords Mid Sussex District Council. We are 'making noises' and we feel the community/area is being enhanced by this football club. We do seem to have supporters in our local council, Burgess Hill Council, but MSDC are the one's that matter.
Therefore, the word CONSISTENCY is also needed from local government stakeholders in helping our football club to grow and become not only a football team to be proud of – but a ground with facilities to be proud of.

John Rattle - General Manager, Burgess Hill Town FC