Car Crashes During Gatehouse Lane Police Chase
28th September 2015
Drama in Burgess Hill on Sunday evening as a car, carrying two men, crashed into a fence on Gatehouse Lane while being pursued by police.


Shortly after 6pm on Sunday 27th September, two men in their 20's were travelling in a maroon Mk 4 Ford Fiesta, heading east along the Goddards Green end of Gatehouse Lane.

They smashed through a wooden fence at the end of the lane, went straight across the bypass (Jane Murray Way, A273) and then crashed into a wooden fence on the Burgess Hill end of Gatehouse Lane.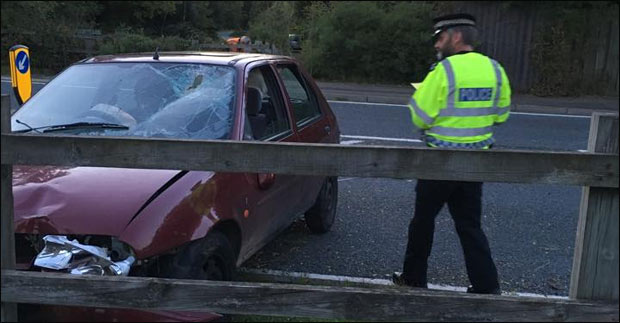 The airbag deployed for the driver, however, the car's windscreen was shattered from the passengers head smashing against it - he was bloodied. The men fleed the vehicle and headed east up the Burgess Hill side of Gatehouse Lane .

Spotting the police further up the road, the men tried to break a fence to gain entry to the back garden of a residential property. Failing in their efforts, they headed back out onto Gatehouse Lane where they were arrested by officers.

The frantic driver was being abusive and strongly resisting arrest when confronted by 4 officers. Having sat on him for 20 minutes, the man was carried horizontally into the arriving police van.
In contrast, the injured passenger was very calm, and having received some medical attention, was cuffed and taken away in a police car.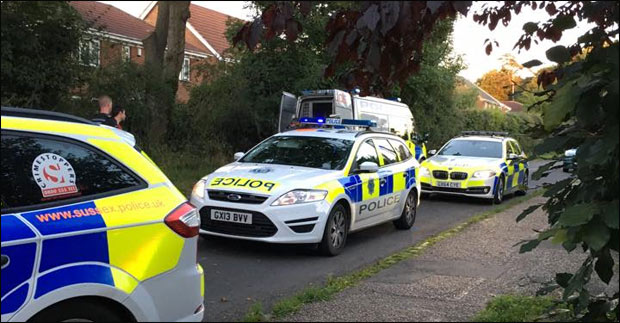 We await an announcement from Sussex Police with the full reasons for the arrests.

Spread the word, Drama in Burgess Hill!

Got an opinion on this story? Leave a comment below.....
Did you witness the drama?