West Side Of Burgess Hill Under Siege From Developers
17th August 2015
Burgess Hill is in line for in excess of 1,000 new homes added to the town's western boundary after it was discovered that a land owner is looking for a development partner to obtain planning permission for 177 acres of land.

Already the town is taking 1,00 new homes to the east, around 4,000 in the north and potentially another 1,000 on land south of Folders Lane. Imagine the strain on the town's infrastructure if the land to the west is also developed.

Appearing on the RH & RW Clutton website, the information is as follows:

BURGESS HILL - 177 acres
The owners of the land seek a promotion agreement with a suitable business to secure residential development of the land
in the light of the Mid Sussex review of planned allocations.
Bids are invited for the consideration payable.
The Western Arc has long been considered a suitable area for strategic development, and studies commissioned by Mid Sussex District Council and Burgess Hill Town Council have analysed this in some detail.

Full Listing Here: rhrwclutton.com/latest-press-releases/strategic-land-opportunities.html
Housing Map
With no district plan in place to control where housing can be built, here's a map showing where the new homes are likely to appear over the next 10 years. Homes on the east of Kings Way already have permission and are currently being constructed as are the ones at the Keymer Tiles site.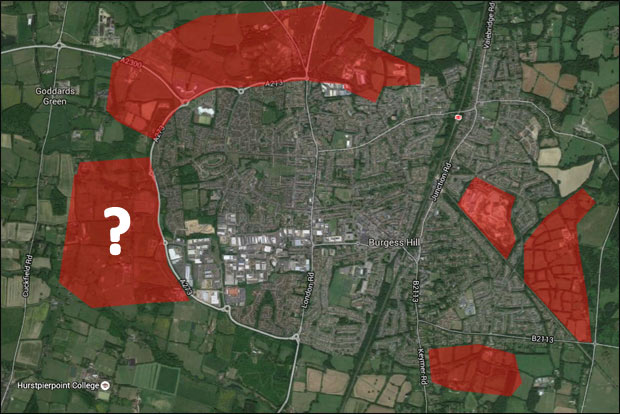 Is all this proposed development getting a bit silly now?

To discuss the various developments touted for Burgess Hill, check out the Burgess Hill Action Group Facebook Page
Spread the word - The 'Western Arc' is the latest scheme emerging for Burgess Hill in addition to the other 6,000+ homes.

Got an opinion on this story? Leave a comment below.....
How do you feel about another 1,000+ homes being added to Burgess Hill, this time on the west? Can our town really cope if over seven thousands news homes are constructed in such a short period of time?