Burgess Hill 'Northern Arc' Planning Application Imminent - The Houses Are Coming!!
9th August 2015
The 4,000-home 'Northern Arc' development in Burgess Hill has moved a step closer to reality with the news that councillors will be meeting with the developers at the District Council offices for a pre-application presentation.


From the Town Council Planning Committee Minutes:

NORTHERN ARC PLANNING APPLICATIONS
Notification had been received from Mid Sussex District Council that there would be a presentation for Town and Parish Councils at 11:00 on Monday 10 August in the Mid Sussex District Council Chamber on the Northern Arc East and West sites. Nominations were sought to attend the presentation.

The District Council was anticipating the submission of two planning applications, covering the Northern Arc East and West sites, in the near future. Councillors were reminded that the Northern Arc proposals formed a key strategic development within the emerging District Plan.

Nexus (planning agents for the applicants Rydon and Gleeson Homes) had agreed to present the proposals to Town and Parish Clerks and Members ahead of submission. This would provide an opportunity to gain a fuller understanding of the proposals before the planning applications were submitted and to question the developers directly on the scheme.

RESOLVED that: Steve Hansford, Richard Cherry and Julian Thorpe would attend the presentation.
--------------------------------------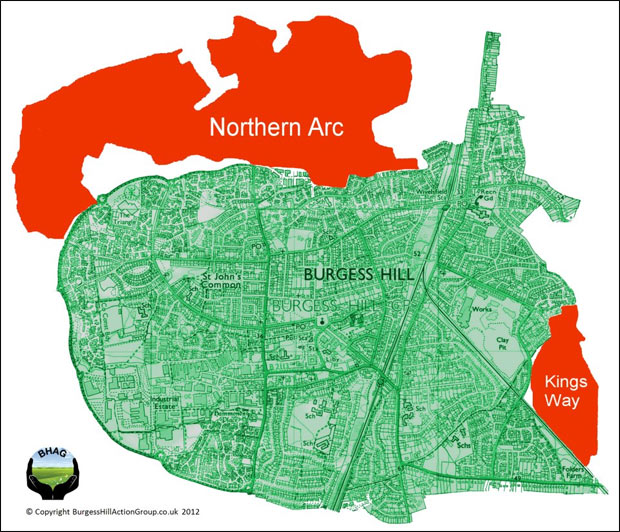 These homes in conjuction with the 480 on the land of East of Kings way are supposed to generate £80 million pounds for the town, £40 million of which is to be spent on 'goodies' said Cllr Andrew Barrett-Miles. In fact, he gave a cast-iron guarantee about the money.

The reality is that with no district plan in place, the extra levys charged to house-builders are not yet in affect thus the town won't get £80 million. In addition, Mid Sussex District Council have said that they wil control the money and not the town council.

Cllr Barrett-Miles still hasn't addressed the public to explain the status of his 'cast-iron' guarantee. We're waiting Andrew.

To discuss this large development, check out the Burgess Hill Action Group Facebook Page
Spread the word - The houses are coming and Burgess Hill will change forever!

Got an opinion on this story? Leave a comment below.....
How are you feeling about 4,000 new homes for Burgess Hill? Do you fear that the town will come under strain due to lack of funds to provided the required infrastructure and amenities?