'Save The Martlets Hall' Public Meeting Called
5th July 2015
With Burgess Hill's only entertainments venue facing demolition, a meeting has been called by local residents to discuss the options available to them on Tuesday July 14th at the Martlets Hall.
This has come about after discovering that NewRiver Retail and the District council have been plotting the redevelopment of the Martlets shopping centre which includes a report that they commissioned, claiming the hall is no longer needed with no replacement required.
Commenting on the Save Martlets Hall campaign, Robert Eggleston said:
This is an opportunity for the whole Burgess Hill community to show its strength of feeling on this issue. A town the size of Burgess Hill, and forecast to grow by nearly 50%, needs and deserves a public venue for the arts, commercial entertainment and cultural & community events. That place is the Martlets Hall until a new facility is built to take its place in the town. This campaign is genuinely non-political. It is something that as a town we can all come together and support"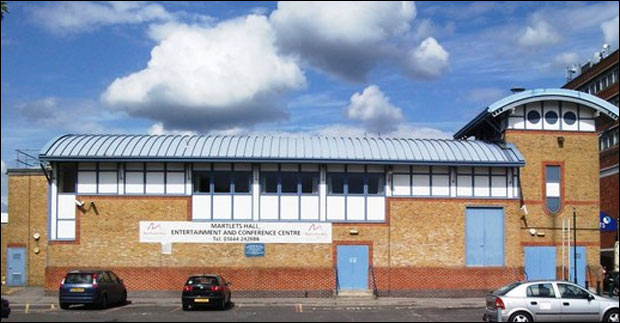 Get Up To Speed
If you want to know about the the full collusion between the council and NewRiver Retail, then the full report along with audio is available here... http://www.burgesshilluncovered.co.uk/news/2015-06-21-neighbourhood-plan-public-hearing.html

Meeting Details
The meeting will take place on Tuesday 14th July at the Sheldrake Suite in the Martlets Hall at 7pm.
It will be a chance for the public to discuss the usage of the hall, why we need such a venue in the town and what we're prepared to do to show the council that we won't roll over.

A Facebook event page has been created here: https://www.facebook.com/events/467094873449945/

Campaign Information
There's a Save the Martlets Hall website (http://www.savemartletshall.org/) on which you will find a copy of a petition that you can print off to help gain signatures. There's also a rapidly growing 'Save the Martlets Hall' Facebook page that you can 'like' too
Spread the word of the 'Save The Martlets Hall' Campaign Meeting

Got an opinion on this story? Leave a comment below.....
Do you wish to see the council retain or replace the Martlets Hall? Do you think an entertainments venue in the town should be scrapped altogether?