Flawed Burgess Hill Neighbourhood Plan To Face Public Hearing With Independent Examiner

21st May 2015
The Burgess Hill Neighbourhood plan that the town council were praising has fallen at the first hurdle. The independent examiner wants to hold a public hearing due to concerns with much of the content.

This comes as no surprise to us here at Burgess Hill Uncovered. A poll that we conducted showed that over 85% of the public didn't know about the Neighbourhood plan or the consultation.

It's pretty farcical considering it's supposed to be a plan formed by the people!

The primary areas of concern for the examainer are housing provision and proposals for the regeneration of the town centre.

Those who made written representations during the consultation have been invited to speak at the public hearing.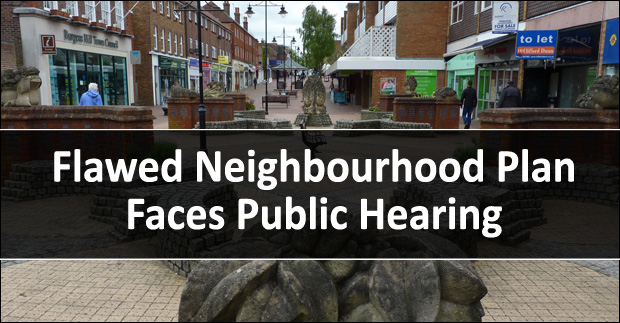 Hearing Date
The public hearing is on Friday June 19th from 13:00 - 17:15. It will be held at the District Council chambers, Oaklands Road, Haywards Heath, RH16 1SS.
Stangely, neither Mid Sussex District Council nor Burgess Hill Town Council have publically released this information. They don't need to worry about that now as BHU have done it for them!

Why Can't Our Councils Get Plans Right?
It's not looking very good for our local councils. First the district plan gets thrown out, leaving the whole area vulnerable to development without adequate financial benefit, and now Burgess Hill's plan has stumbled and is in danger of being torn up and told to start again.

The amount of consultancy fees paid for failure must be eye-watering by now. That's our taxes folks.

Consultation Responses
If you wish to get a flavour of why the exmainer has called for a public hearing, then take a look at the consultation responses here: http://www.midsussex.gov.uk/media/BurgessHill_NP_SummaryofRepsDoc_April2015.pdf

Try not to tut, shake your head and slap your forehead too much as you read through it!


Spread the word, the Burgess Hill Neighbourhood Plan is not as good as our town council claimed it to be.

Got an opinion on this story? Leave a comment below....
Are you surprised that the Neighbourhood Plan has run into trouble at the first hurdle? Do you think it should be torn up and started from scratch, making it a true document formed by the public? Should BHTC seek to get their money back from all the private consultants used if the plan fails?