Petition For Three Hours Free Parking In Burgess Hill Handed To Mid Sussex District Council

5th November 2014
The Burgess Hill Labour Party have completed a petition calling upon Mid Sussex District Council to offer shoppers in Burgess Hill three hours free parking.

It was handed in at the District Council offices in Haywards Heath last week having obtained in excess of the 1,300 signature requirement to force a debate at a future meeting of the full council.

BHU caught up with Dave Andrews, leader of the Labour group on Burgess Hill Town Council..

"The Party is absolutely delighted with the positive response from the people of the town to the suggestion of a 3 hour free parking period. We are particularly pleased that almost without exception, all the small traders in the town were very enthusiastic about the idea which would allow customers to have time to go to the hairdressers, have a coffee, choose some jewellry or clothes etc which would increase trade."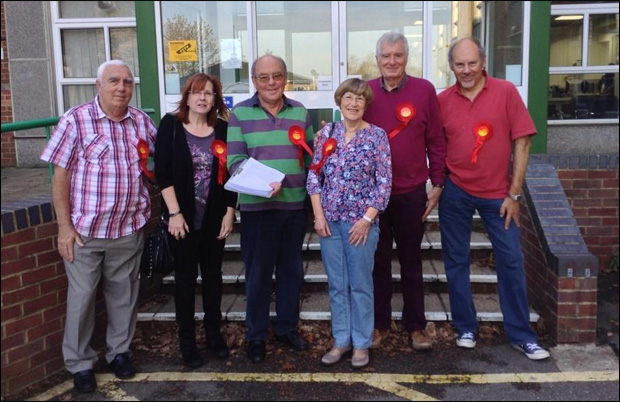 Last month, BBC Radio Sussex discussed the proposal of free parking in the town at great length with a number of people speaking on the issue. One of those was councillor Pru Moore. Speaking on behalf of the district council, Cllr Moore dismissed the idea without the petition even being completed. We asked Cllr Andrews what he thought of her comments:

"The Labour Party really hopes that this petition is taken as an expression of opinion in the town and is treated seriously. We are not encouraged by remarks by Cllr Pru Moore on BBC Radio Sussex which seemed to indicate that a decision had already been taken or was a foregone conclusion. Surely Burgess Hill members of the District Council, virtually all of whom also sit on the Town Council, will want to support the community they represent. If they do not then we can only conclude that they see themselves as District Councillors first and Town Councillors a poor second."

With the agenda for November's council meeting already set, it could be that we'll have to wait until January 2015 for the district council to discuss the proposal. We'll keep you updated with any developments.

Let people know that our councillors now have to discuss and debate free parking for Burgess Hill!

Got an opinion on this story? Leave a comment below....
Do you share the sentiment of those people and traders who signed the petition that Burgess Hill would benefit from some free parking? Do you expect the Burgess Hill members of the district council to represent our views?