Police Hunt Burgess Hill Gunman
18th October 2014
We're slightly 'jumping the gun' without a full statement being released by Sussex Police (keep your eyes on the Argus Website) but we've received many reports from witnesses and sources that say a man pulled out a gun on another male outside the Brewers Arms pub, London Road late last night.

The police were called to the scene, with armed officers spotted in and around the town centre, shining torches over the railway bridge on Station Road. Officers were telling members of the public to vacate the area, informing them of the search for an armed, dangerous man.

Marked and unmarked police cars with spotlights were seen searching the roads.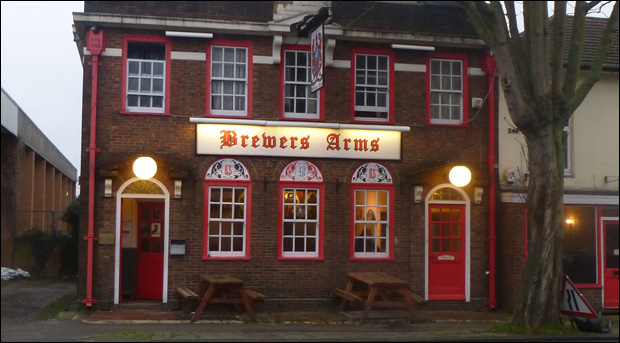 The Brewers Pub, London Road, where the incident is said to have taken place outside

Statement From The Brewers:

A random person came in the pub all agitated and got in a minor argument with some customers, whilst outside of the pub (most likely having a cigarette) he revealed he had a firearm, then left quickly afterwards, thankfully no one was hurt and the police responded very quickly.'

- Piers O'Sullivan, Landlord of The Brewers Arms

Gunman Approaches Man In Lower Church Road
Shuan Simons was parked up in Lower Church Road when the gunman approached him, wanting a lift..

"He stopped and spoke to me asking for a lift to the station. He then showed that he had something to which I thought was a knife at first. He then continued to talk with me and then walked off. As he walked off a police car drove through four way lights as I was sat outside Tim Lee (chinese take-away).

"He then came back again asking for a lift, then offering me money, saying to 'hold it' he is not going to do anything he just wanted to get to the station. He then said I was a snitch and had called the police to which I told I had not. He then started to argue and then took out the firearm, continuing to argue.

"Then, another police car drove through the four way lights which I think spooked him, he then walked off up lower church road and I drove off."
It is yet unknown if the police managed to track down the suspect, however they have acknowledged that an incident did occur yesterday evening.

We'll keep you informed as more information becomes available.
::Update::
Members of the public claim a man was arrested in a taxi, he was in possession of a fake firearm.

::Further Update::
Conflicting reports suggest that the firearm was NOT recovered and that Police are currently out searching for it (Saturday mid-morning)
You can follow the facebook thread full of speculation/rumour/truth/inaccuracies here...
https://www.facebook.com/burgesshill/posts/856497694383143
It's good to share, let people know about an armed man in Burgess Hill