New vision to be unveiled for Burgess Hill Town Centre
16th October 2014
A day ahead of the 'big reveal' for the future development of the Martlets Shopping Centre, owners NewRiver Retail have sent out a press release which gives away the main details of what to expect in the planning application to Mid Sussex District Council.

The plans are to include an 8-screen cinema, a hotel, new housing, more shops and restaurants along with a new library.

The layout and locations are to be discovered tomorrow at which point we'll know what public assets the council are giving away and which businesses will disappear.

The Full NewRiver Retail Press Release...
NewRiver Retail has announced that it will bring forward ambitious new plans in partnership with Mid Sussex Council to revitalise Burgess Hill town centre and strengthen it as a retail and leisure destination.

NewRiver acquired the long leasehold of The Martlets Shopping Centre in December 2010. It comprises some 123,000 sq. ft. and has around 30 occupiers including Lidl, New Look and Iceland. Since that acquisition NewRiver has been exploring a number of options for the redevelopment of the shopping centre with Mid Sussex Council, with clear aspirations for the improvement of the shopping experience in Burgess Hill Town Centre.

Originally built in 1972, The Martlets is typical of many similar centres built across the country during the period. Over time, with the development of the adjacent Market Place and the Waitrose Store, The Martlets has lost presence and relevance in the town centre. It has a dated feel, an unattractive environment and does not offer the size and configuration of units that are major retailers demand.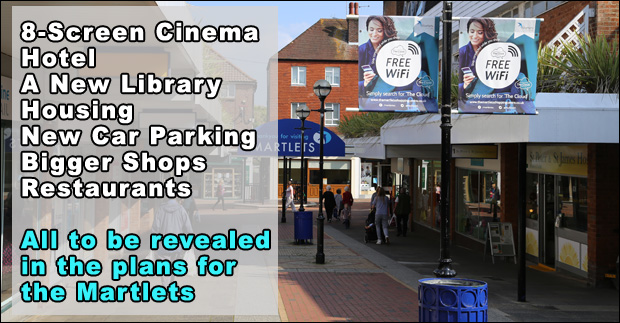 NewRiver's vision is the transformation of The Martlets through high quality design, re- development and the introduction of a new mix of uses that will create a modern, vibrant town centre. Allan Lockhart, Property Director at NewRiver Retail said, "We are thrilled to be partnering with Mid Sussex District Council in seeking to inject significant new investment in Burgess Hill. We now have some emerging plans which we believe are fully deliverable and which will bring a dynamic and modern feel with better shops, restaurants, a new 8-screen cinema, a hotel, improved parking, new homes and a new library."

Allan Lockhart added, "Our objective is to dramatically improve the environment with high quality architecture and improve the public realm to attract more shoppers and benefit all businesses in the town centre. Our draft plans, which we are keen to share with all parties concerned with the future of Burgess Hill prior to finalisation, are based on a phased approach and are focused primarily on a brand new development that will dramatically change the town centre and drive economic regeneration. We look forward to receiving feedback from local businesses and residents on our vision for an enhanced Burgess Hill Town Centre."

Public Exhibition
NewRiver will be holding a public display of the plans at Unit 18 in The Martlets Shopping Centre (next to Euronics Domestic Appliances) on Friday 17th October 2014 between 10 am and 6pm and Saturday 18th October between 10am and 4pm. Representatives will be available to answer questions and receive feedback.
It's good to share, let people know about the development plans

Got an opinion on this story? Leave a comment below.....
What do you think to the plans? Does Burgess Hill need another hotel? Where is everything going to fit?