New Shopping Bus Service Announced For Chanctonbury and Hammonds Ridge Estates
21st September 2014

A new twice weekly community shopping bus service has been announced which is hoped will solve the issue of local residents in the south of town being isolated from the town centre.

The new route will run for a six month trial and will commence next month. It's being run as a partnership between Burgess Hill Town Council and the Bluebird Community Partnership

The service replaces the one devastatingly dropped by Metro Bus earlier in the year. Many elderly and disabled people have faced great difficulty in accessing the town centre on a regular basis since its withdrawal.

Service Details
The shopping bus will be operating on TUESDAYS and THURSDAYS around a semi fixed route.

You will need to ring Bluebird on 01444 471919 between 9.30am and 11.30am to PRE BOOK the service in advance.

Pick ups will be made from the existing disused bus stops for the duration of the trial.

If you have any difficulty in getting to these stops please discuss with Bluebird to arrange to collect from your home. For further information contact Burgess Hill Town Council Help Point, 96 Church Walk, Burgess Hill on 01444 247726.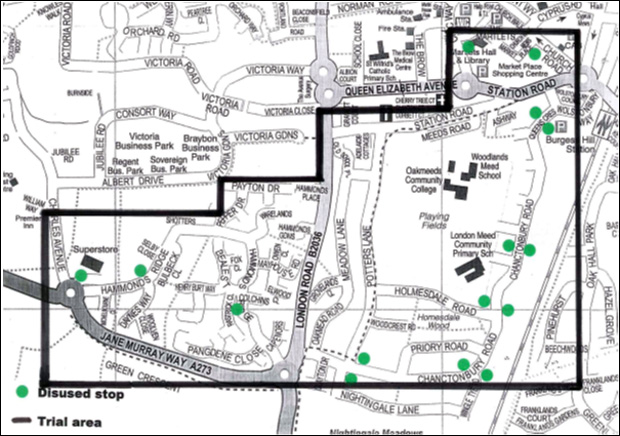 Cost £1.50 Single £3.00 Return

Times
Buses will depart from Hammonds Ridge (Rastrick Close) at 9:45am and 12:45 pm.
Return Journeys leave from outside W H Smith at 11:45am and 2:30pm.
Let people know about the new community shopping bus service.....

Got an opinion on this story? Leave a comment below.....
What's your reaction to the news that there will be a twice weekly shopping bus service for the south of the town? Is this enough?