PamPurredPets Coming To Burgess Hill Town Centre
2nd September 2014
Exciting times for Burgess Hill Town Centre as pet food and accessories supplier PamPurredPets are on their way.

For the past few months it had been mentioned by members on our Facebook page that a Pet Shop was to replace William Hill Interiors who are soon to be departing the MarketPlace Shopping Centre in favour of a new home in the Martlets opposite Lidl.

We attempted to make contact with PamPurredPets early last week regarding their impending arrival but they've yet to respond to our questions. Rude!

Their website however, currently lists many vacancies in Burgess Hill with a closing date of September 12th. Roles ranging from Branch manager to supervisor, sales assistants and weekend staff all being required. If you fancy selling dog biscuits, then do take a look... http://www.pampurredpets.com/Instore%20Offers/index.php?a=19&id=217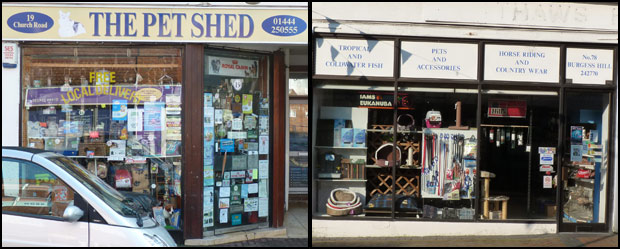 Are our independent pet shops now at risk?

Last summer there were fears for the survival of Aqua Pets and The Pet Shed in the town centre when Pets at Home opened on Jane Murray Way. The arrival of PamPurredPets is sure to make things even harder for our independent businesses.

So then, in closing, we know that PamPurredPets are on their way to Burgess Hill, we just don't know exactly when or where. Sorry about that! Let's just say The Marketplace Shopping Centre, next to KFC, opening early October shall we? Great!

***UPDATE***
Pam Purred Pets wrote a tweet today (October 16th) announcing that they're coming to Burgess Hill.... but then, you already knew that!
It's good to share, let people know about the new pet shop coming to town!

Got an opinion on this story? Leave a comment below.....
Are you pleased that a new pet shop is coming to Burgess Hill Town Centre? Is Burgess Hill big enough to sustain 4 pet retailers?