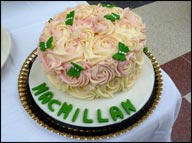 £600 Raised For Macmillan As Rose Bush Cake Wins Market Place Baking Competition.
27th September 2013
On Friday the Market Place shopping centre held a coffee morning in aid of Macmillan. There was a barber shop quartet to entice the shoppers over to give donations in return for refreshments. A tea and coffee themed quiz ran throughout the morning and children had the opportunity to decorate mugs with special ceramic paint pens.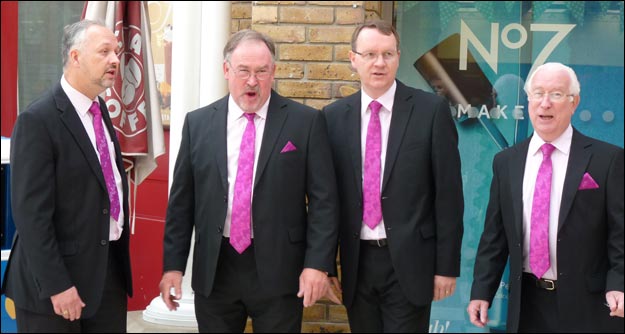 The barber shop quartet did a great version of Zip-a-Dee-Doo-Dah
The event also saw the debut of the Market Place baking competition. A panel of 4 judges including shopping centre manager Chris Goldfinch and Mr Peter Chapman of Burgess Hill Uncovered had the arduous job of sampling all the entries in order to decide on the top three.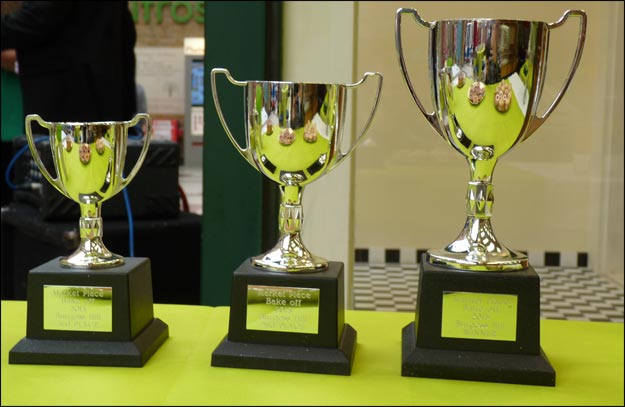 Here are the prestigious trophies that were up for grabs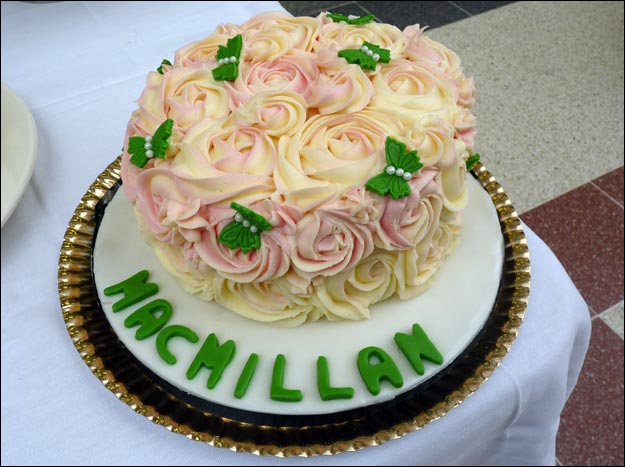 The winning cake was the beautiful Macmillan Rose Bush cake baked by Vicky Saunders. It was a triple layer green sponge with a jam and butter cream filling. It was decorated with two-tone buttercream icing, topped with fondant butterflies. The cake base had icing spelling out 'Macmillan'. It really was a worthy winner.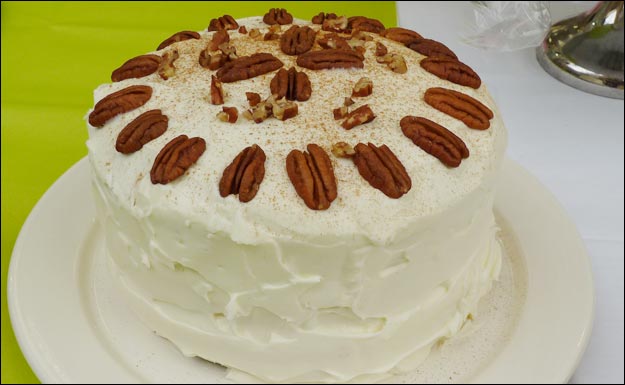 Second place was a Hummingbird cake, baked by Katie Ashworth. The cream cheese frosting was amazing!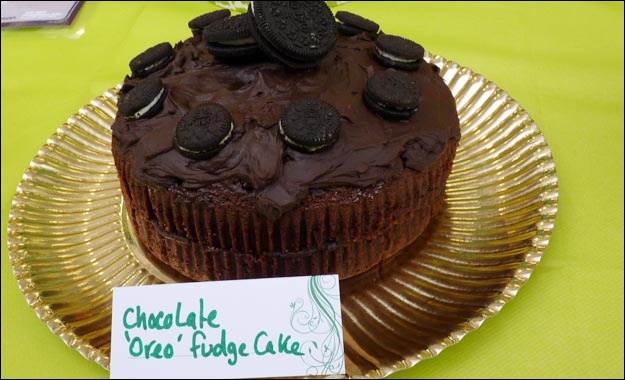 Third place was Lynne Wright's Chocolate Oreo Fudge cake. Your reporter must confess to consuming many slices of this cake once the judging was complete.




The pot was overflowing with cash!



Chris Goldfinch, manager of the Market Place shopping centre:
"It was a hugely successful event where we raised over £600 for Macmillan cancer support. We understand that this will cover the cost of a nurse for 24 hours work. This is another example of the teamwork that exists in Burgess Hill and we are grateful of all our customers and tennants who supported the event."



Spread the good news by sharing this story!