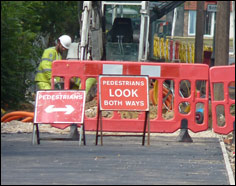 Council Admit There Is No Room To Expand New Cycle Path
2nd September 2013
A cycle path for Queen Elizabeth Avenue as part of the 'Boulevard Project' - costing hundreds of thousands of pounds - has been rendered useless even before it's completion as West Sussex County Council have revealed in the leaflet for the 'Boulevard Project' that there is no room to extend the cycle path up to the train station.

Here's the exact wording as found in the documentation..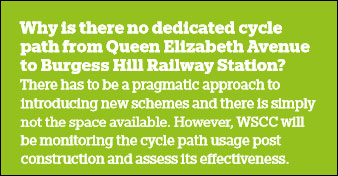 You can download the complete leafet for the project here...Boulevard_Project.pdf
It will tell you about the lovely trees and lighting that will also be installed.

In our opinion, this new cycle path is like having a scalextrics set but with only one piece of track - absolutely pointless!

West Sussex County Council claim that they'll be monitoring the cycle path once completed to see how effective it's proving. I think we all know already know the answer to that one.

What The Locals Are Saying
Local residents have been questioning just who decided that the road needed a cycle path, and more importantly, what consultation (if any) took place with the public.

Many observations on our Facebook page have been that the lanes are so wide at Queen Elizabeth Avenue that a cycle path was not essential for this road. In addition, due to the light usage by pedestrians on the footpath, school pupils cycle along it already without there being any dramas.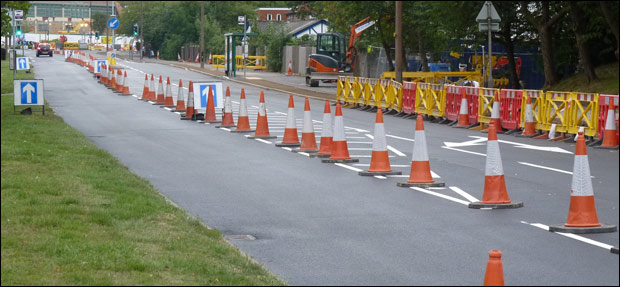 The main gripe is that roads such as part of Station Road and Leylands Road (and others) are in such bad condition that public money should be spent on them instead to ensure our safety and to avoid costly repair bills for our motor vehicles.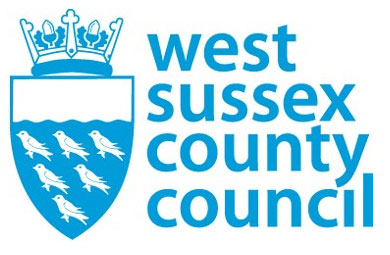 What The Council Said
Burgess Hill Uncovered contacted Gulu Sibanda, Principal Communities Officer for West Sussex County Council in order to ask him why it was decided that we should be getting a cycle path.
He replied with...
'Thank you for your email and please be advised that your concerns are being taken seriously and will be responded as soon as possible'
Erm, watch this space.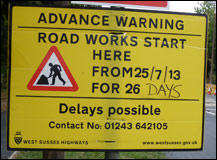 Project Behind Schedule
Queen Elizabeth Avenue has been shut off to west-bound traffic for a number of weeks now. The diversion down the very narrow Lower Church Road has led to significant congestion.

Signs at the site state that the works would take 26 days from the 25th of July. That means the path could have been completed by August 20th.

Burgess Hil Uncovered put in a call to the County Council Highways department today to be informed that the works won't be completed until Friday 6th of September at the earliest. The local schools will have started back by this date and the plan was to have the road finished before this time. It'll be fun being an observer outside St Wilfrids school later in the week.


It's good to share, especially when it's highlighting a huge waste of public money...

Got an opinion on this story? Leave a comment below.....
What are your feelings on the cycle path that leads to nowhere? Is it needed in the town? Should the £100k+ that this project is costing have been spent repairing the many pothole-ridden roads in Burgess Hill?